The Marshall Recreation Center boasts a 123,000 sq. ft. state-of-the-art facility used for a variety of purposes and events. Amenities of the facility include an Aquatic Center, Outdoor Pursuits Center with climbing wall, track, fitness floors, and more. The Recreation Center offers a variety of rentals for businesses and individuals wishing to host an event in our unique facility. Rent the Rec for your event!
Rec Center Facility Use Request
Henderson Center Pool Reservation Request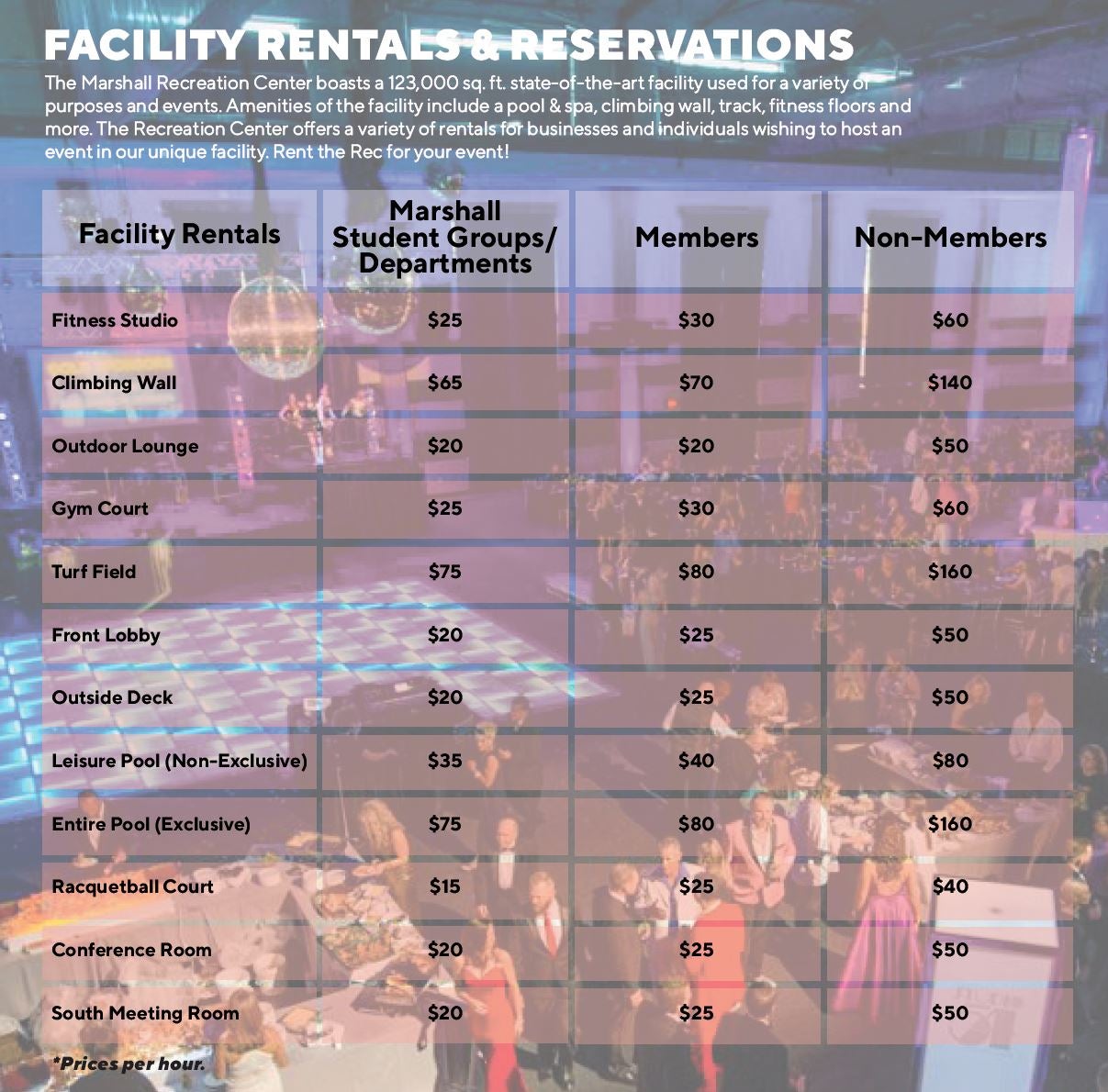 Birthday Parties
---
With a rock climbing wall, gymnasium, turf field and Aquatic Center, the Rec is the perfect place to hold a unique birthday celebration! Birthday Party Policies Packet
Business Meetings
---
Make your next keynote presentation one to remember in our projector and screen equipped rooms. Meetings can take place in our Fitness Studios or Wellness Classroom to best suit your needs. Chairs and tables are provided.
Anniversary & Holiday Parties
---
Whether you are celebrating a business anniversary or hosting the office Christmas party, the Rec can take your event to the next level. Our facility can accommodate small gatherings as well as large-scale celebrations with ease.
Tailgates
---
Held in Studios A/B and overlooking the Joan C. Edwards football stadium, a tailgate at the Rec is perfect for cheering on the Thundering Herd in any season.
---
After Hour Rentals
---
The Marshall University Recreation Center is available for lock-ins, after proms and other after hour functions. For a minimum of three hours, schools, churches and other groups will have exclusive use to four basketball courts, studio spaces, racquetball courts and the lobby.
The Climbing Wall may be reserved for a minimum of two hours during the event.
The rental fee for after hour parties is $1,500.00, which includes access for 250 participants (including chaperones).
Participants over 250 can be included at $3.00 per person.
One chaperone for every 10 people under the age of 18 is required.
Groups requiring police attendance will be billed based on the current MU Police hourly rate.
There will be additional staffing costs if your event takes place after normal hours of operation.
Rental Options
---
Marshall University Recreation Center facility rentals are customizable with options and add-ons to make your event stress free and convenient. Some of these options include:
Catering
---
All events at the Rec have options available for catering by Sodexo. Catering options can be customized to suit a variety of occasions and events of all sizes.
Parking
---
Parking is located at the lot on 20th Street and 5th Avenue across from the Rec. Parking passes are available at the Welcome Desk. Learn more about Parking.
For more information about Rentals & Parties, please contact: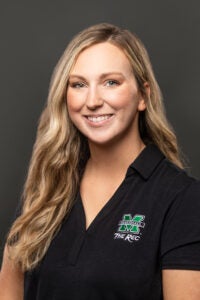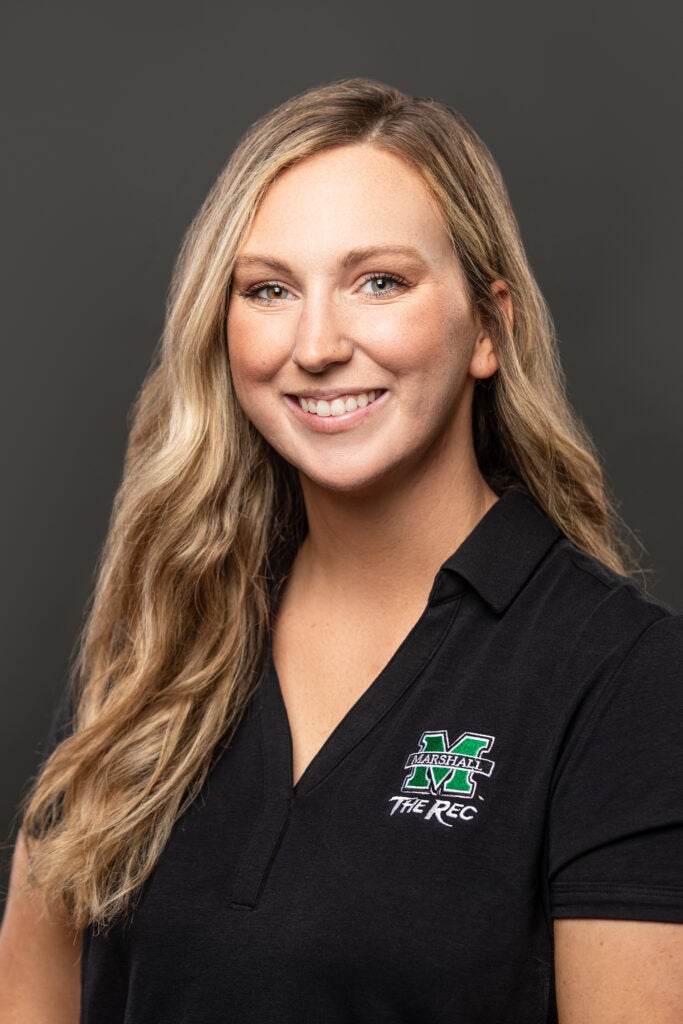 ---
Lindsey Peterson
Assistant Director of Facility Operations 
---
Email: recrentals@marshall.edu
---
Telephone: 304-696-4107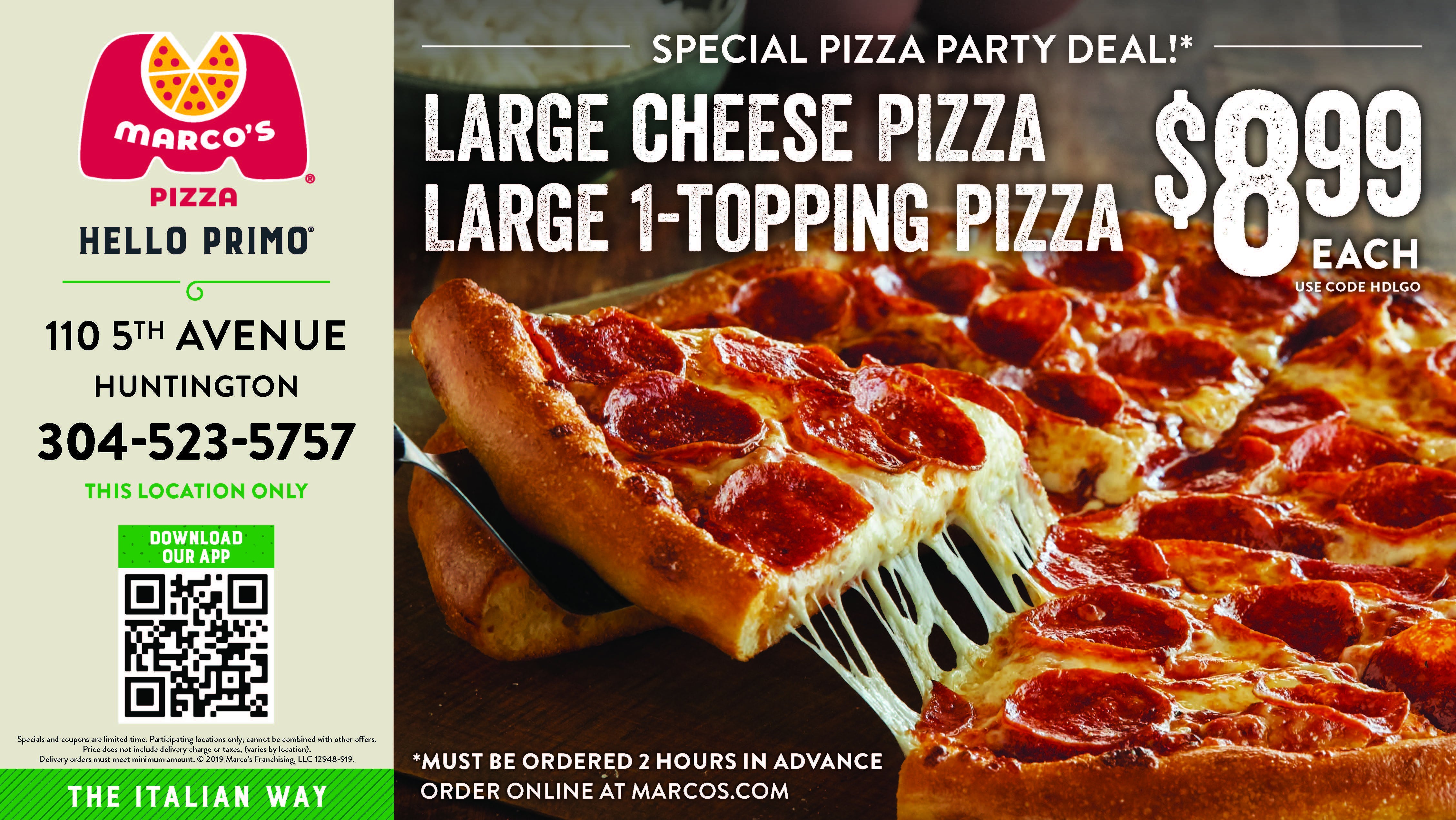 Click the image above for Marshall Recreation Party Orders. *Don't forget to mention "VIP Menu Pricing" when ordering!