Equipment Issue
---
Sports equipment may be checked out at the Welcome Desk with your Marshall ID or MU Keytag. Equipment includes: basketballs, volleyballs, soccer balls, table tennis paddles, tennis racquets, badminton racquets, and racquetball racquets.
Towel & Locker Room Service
---
Campus Recreation offers Day-Use Lockers, Rental Lockers, a Gender Neutral/Family Locker Room, and Towel Service to all patrons who wish to add the service to their membership.
Parking
---
We offer Parking Passes on behalf of the Marshall University Parking Office. The passes are available to non-student and non-faculty/staff members, as well as Medical School students who are in their second year of Med School and beyond.
For more information about Membership Services, please contact: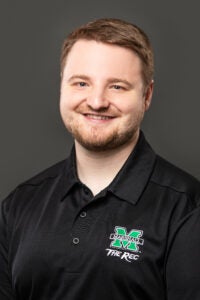 Michael Lawson
Coordinator of Membership & Guest Services
Email: lawson129@marshall.edu
Telephone: 304-696-2529