The Marshall Recreation Center offers specialized Group Fitness classes (free with membership) and Premium Fitness classes available for members and non-members alike.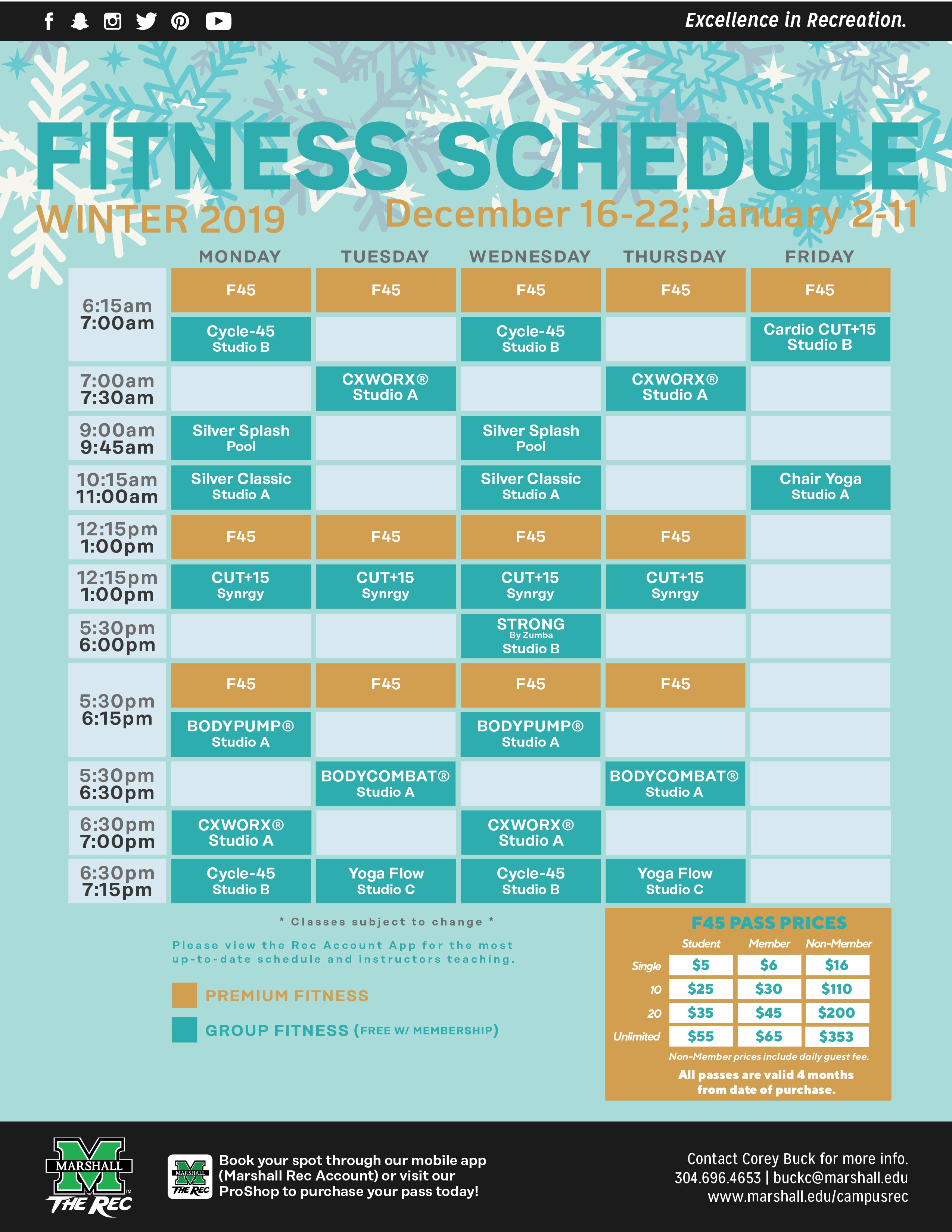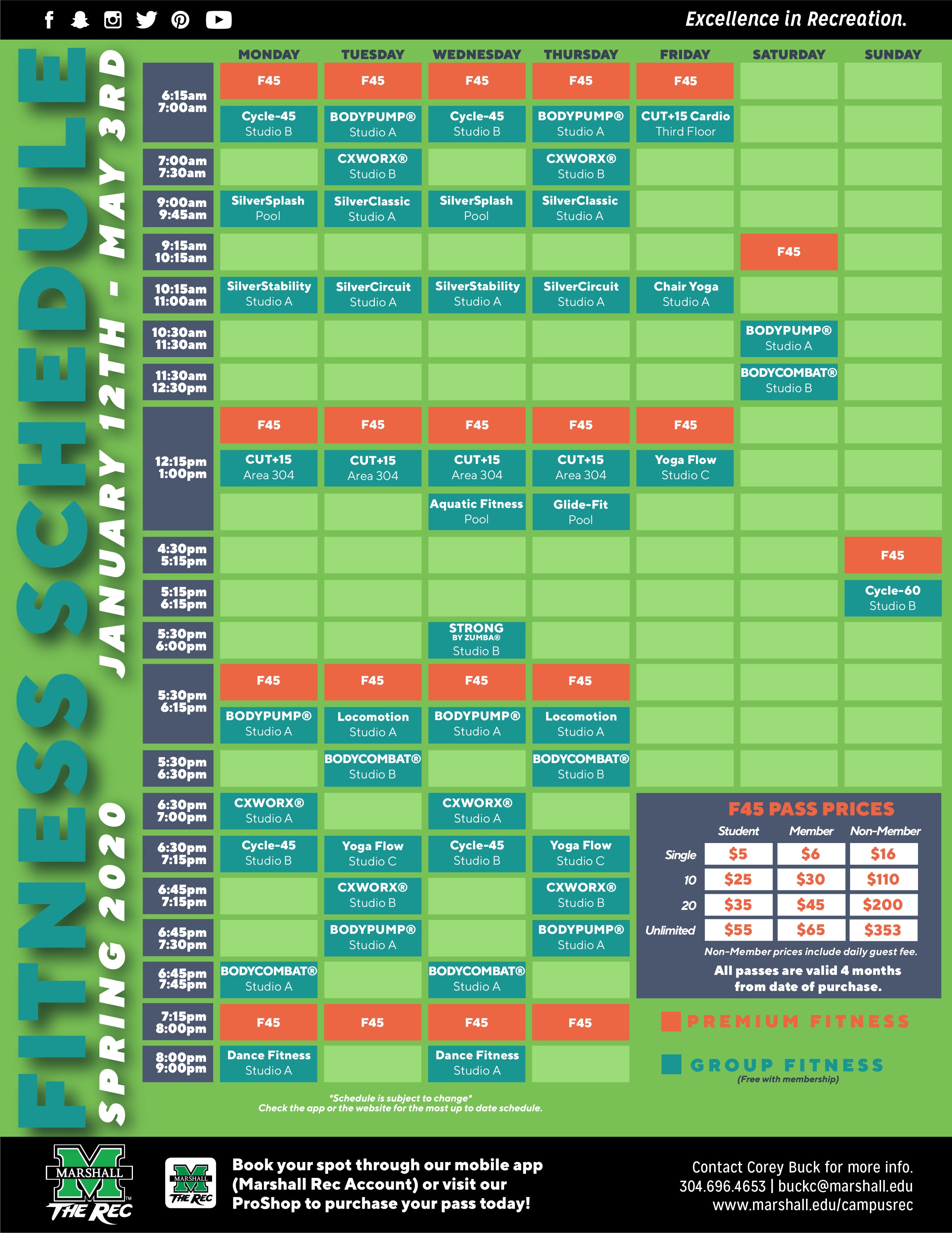 Iron Month (February)
---
FREE Challenge program throughout February "Iron Month" where participants attempt to reach the total distance required to complete an Ironman Triathlon. Registration takes place from 1/1/2020 to 1/31/2020.
Goal distance by race component:
Swim – 2.4 miles
Bike – 112 miles
Run – 26.22
How do I participate?
1. Register online via the app or at the ProShop.
You must provide a valid email address to participate.
2. Track your progress throughout the month on the Iron Month Tracking card located on the 2nd floor.
3. Fitness staff will update the Leader board every week to show where you stand!
4. The Coordinator of Fitness will send you a "Welcome" email with guidelines for the program once you register. Register Online
---
Iron Month-Indoor Triathlon Group Training
---
Join an ACE certified Personal Trainer and Triathlete every Saturday during February "Iron Month" from 11:30 AM – 1:00 PM at The Rec to prepare for the Indoor Triathlon on February 29th. Register at the ProShop or online today.
Saturdays | February 1-22
Registration from 1/1/2020 to 1/31/2020
11:30am-1pm
Students: $65
Members: $75
Non-Members: $95
All Out Fitness Challenge
---
Drop by the Rec to compete alongside fellow gym-goers to see who's the fittest on campus! Challenge categories include but are not limited to body weight exercises, power lifts, endurance exercises, and the Ninja Rig. The winners within each challenge category will receive a prize plus the chance to be displayed on the "All-Out Fitness" leader board at the Rec and on Social Media! Challenge categories will be based off of gender and ages, and you must compete in at least 3 events to redeem a participation prize. **Registration not required for these FREE events.
Wednesday, January 15
Wednesday, February 5
Wednesday, March 4
Wednesday, April 1
5 pm-7 pm
2nd Floor Fitness
Push-Pull Competition
---
This event will consist of three major push-pull lifts; Squat, Bench Press, and Dead lift. Participants are given three attempts per lift to achieve maximum weight for a single repetition. The use of personal equipment (belts, gloves, braces, etc.) are permitted. Participants will be categorized based-off of gender and weight class. *Participation in Power lifting 101 is encouraged, but not required. Register at the ProShop or online today.
February 8
Registration from 1/1/2020 to 2/7/2020
9-12pm
Members: $10
Non-Members: $20
April 4
Registration from 3/1/2020 to 4/3/2020
9-12pm
Members: $10
Non-Members: $20
Itinerary on both dates:
9- 10am | Weigh-In
10- 12pm | Performance (Squat, Bench Press, Dead lift)
Powerlifting 101
---
Power lifting is a sport consisting of various types of lifts including Bench Press, Squat, and Dead lift where participants are given three attempts per lift to achieve maximum weight for a single repetition. Whether you're a beginner or advanced competitor, join us for this workshop to take your lifts to the next level! Register Online
Sunday, January 26
Sunday, February 2
Sunday, March 8
Sunday, March 15
1pm-3pm
Area 304
Members: $10/per class
Non-Members: $20/per class
Purchase All 4 Classes:
Members: $30
Non-Members: $40
Online Race Event Training (Year Round)
---
Whether you are a beginner or an advanced participant, this program is for you! Join our online Race Event Training program to work towards any upcoming event that you are training for. Race events may range from a 5K to a Triathlon. Programming is created by a World Competing Tri-athlete and ACE certified personal trainer. Register Online
What you will receive from your Trainer:
1. Pre-race consultation (goal setting for program creation)
2. Weekly check-in and programming specific toward your event
3. Post-race consultation
Members: $40/monthly
Non-members: $60/monthly
Premium Fitness

---
F45
F45 Training combines elements of High-Intensity Interval Training (HIIT), Circuit Training, and Functional Training. The fusion of these three training concepts has lead to the development of 27 different, 45 minute workout experiences, with more in development by our F45 Athletics Department. This combination of interval, cardiovascular and strength training has been proven to be the most effective workout method for burning fat and building lean muscle. To ensure a safe and comfortable experience for all participants, entry to classes will not be permitted later than 5 minutes past the class start time.
| Type | Single | 10 | 20 | Unlimited |
| --- | --- | --- | --- | --- |
| Student | $5 | $25 | $35 | $55 |
| Member | $6 | $30 | $45 | $65 |
| Non-Member | $16 | $110 | $200 | $353 |
*All F45 passes are valid 4 months from the date of purchase. The non-member prices include the daily guest fee.*
Group Fitness (Free w/ membership)

---
BODYCOMBAT®
Join this high-energy martial arts-inspired workout that is totally non-contact. Punch and kick your way to fitness. No experience needed. Learn moves from Karate, Taekwondo, Boxing, Muay Thai, Capoeira and Kung Fu.
BODYPUMP®
Get lean, build strength and tone muscle with BODYPUMP, a group-based barbell class to work all your major muscle groups. Focusing on low weight loads and high repetition movements, you'll burn fat, gain strength and quickly produce lean body muscle conditioning.
Chair Yoga
Chair Yoga is one of the gentlest forms of yoga. You will practice yoga sitting in a chair or standing using the chair for support throughout each flow.
CUT+15
Cross training Under Thirty is an all-out circuit style workout that focuses on a particular muscle group each class.
CXWORX®
Exercising muscles around the core, CXWORX® provides the vital ingredient for a stronger body. A stronger core makes you better at all things you do, from everyday life to your favorite sports – it's the glue that holds everything together.
Cycle
This class consists of hills, flats, sprints and everything in between! A challenging class driven by incredible playlists and motivating instructors. Get ready to sweat, work hard and have fun!
Dance Fitness
This class will help you build cardiovascular endurance and strengthen your heart muscle all while dancing to motivating and energetic music. Join us and work up a sweat on the dance floor!
Glide-Fit
Get a full body workout all on the water! This class is a low-impact, high intensity, cross training workout performed on an inflatable SUP boardin the pool.
Locomotion
Join us for 20 min of easy to follow low-impact aerobics, followed by 20 min of endurance based strength training. This low impact, high volume class will help improve activities of daily living and increase balance and flexibility. With the use of stability balls, dumbbells and more this class will always feel new and interesting. To ensure a safe and comfortable experience for all participants, entry to classes will not be permitted later than 5 minutes past the class start time.
SilverSneakers
We offer Classic, Circuit, Stability, and Splash all meant to improve range of motion and muscle strength to enhance your daily activities.
STRONG by ZUMBA®
Strong by Zumba® combines body weight, muscle conditioning, cardio and plyometric training moves synced to original music that has been specifically designed to match every single move. Every squat, every lunge, every burpee is driven by the music, helping you make it to that last rep, and maybe even five more.
TRX
Join us for a combination of TRX Strength and Cardio exercises. Build overall strength, balance and flexibility with this total-body conditioning program.
Yoga Flow
Yoga Flow focuses on linking conscious breath with a vigorous and mindful Flow. You will build strength, flexibility and concentration while cleansing the body and calming the mind.