What Our Students Are Saying
"Ms. C was the overall greatest cooperating teacher I have ever had during my experiences at Marshall University. She was willing to help me during my teaching experiences to improve on different techniques. I would definitely recommend her for any students. She was a great role model and I am so pleased I was able to be placed with her."

"Mrs. P is amazing! She never let me down and always made me feel important. She would go out of her way to accompany my schedule when coming to observe. Her door was always open whether I was wanting to share good news with her or cry from the stress of life and student teaching. She always let me know how I was doing, both the good and the bad. She helped a great deal with my confidence this semester and truly helped me grow into the teacher I am becoming. Mrs. P is a wonderful mentor and any student would be lucky to have her to guide them through their student teaching experience. I could not have asked for a better supervisor."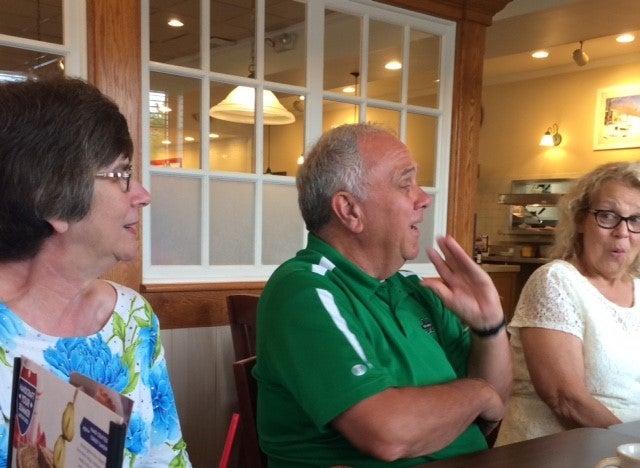 Our university supervisors met for a special breakfast to celebrate the end of the semester.  Allen Messinger, student teaching supervisor, was named University Supervisor of the Semester for his commitment to his students.
Cooperating Teachers of the Week
Summer James is a 4th grade teacher at Spring Hill Elementary. She is a native of Proctorville, OH. Summer is a 2001 graduate of Marshall University with a degree in Elementary Education Multi-Subject K-8. Ms. James has two children; a son Hayden(20) who plays golf at Cedarville University and a daughter Isabella(11) who is a 6th grader at Fairland Middle School. She is currently in her 17th year teaching, and her 12th year at Spring Hill.  She is pictured with her student teacher, Hannah Landis.
Stephanie Ellis is a fifth grade teacher at Ceredo Kenova Elementary School.  She graduated from Marshall University in the Spring of 2010 and is currently in her 8th year of teaching.  Her passion is to help students become the best learners they can possibly be, while feeling cared for, loved, and respected.  When she's not at school,  she enjoys going to church, spending time with family and friends, traveling, crafting, shopping, and spending time with her Maltese, Fluffy. She is pictured with her student teacher, Rebekah Lambert.
Previous Teachers of the Week
Handbooks, Forms, & Links
Contact Us


Staff
Title
Location
Office
Phone
Toni Ferguson
Administrative Associate
Huntington
JH 201
304-696-2861
Amanda Preece
Assistant Director of  Clinical Experiences
Huntington
JH 206
304-696-3100
Kandice Rowe
Director
Huntington
JH 205
304-696-6842
2020 Student Teaching Very Important Dates


Dates
Event
Location
1/13/2020
Student Teaching Orientation
BE-5
1/14/2020
First day, placement 1, student teaching
1/21/2020
Elementary TPA seminar
1/23/2020
Secondary and Related Arts TPA seminar
1/29/2020
Whole Group TPA seminar
2/5/2020
First placement midterms due
Week of 2/10/2020
Level I orientation
2/13/2020
Level II orientation
2/17/2020
Level I start date
2/17/2020
Level II (secondary) start date
2/28/2020
Last day, ST teaching, placement 1
3/2/2020
First day, placement 2, student teaching
3/5/2020
TPA Due Date
3/31/2020-4/2/2020
Capstone Presentations
4/23/2020
Last Day, Student Teaching
5/1/2020
Level I and Level II final completion date
5/1/2020
COEPD Undergraduate Ceremony
5/2/2020
MU Graduation



Student and Staff Achievements