*VOTE 4 US!*
Fund our Gardens with Daily Votes!
Please visit SeedsOfChangeGrant.com and vote Every Day from now till April 22nd. Winning this grant will help us fund our Marshall University Sustainability Gardens, expand our education outreach, and share the importance of Sustainability.
Our community garden is in the running for a generous grant from Seeds of Change®! Vote for us every day. http://www.seedsofchangegrant.com/GalleryDetail.aspx?id=89200b7a-e1f9-48f8-bff3-2ad5e8e0aecc&share
---
Mark your calendars for some great sustainability events!
April 22nd: MU Earth Day Festival!  Tuesday, 10AM-3PM – Come visit this huge annual campus event!
April 25th: Earth Day @ Ritter Park  Friday, 12-7PM - hosted by the Greater Huntington Park and Recreation District.
April 26th, Sunday, 9AM: Beech Fork Clean Up, hosted by the Cabell County Solid Waste Authority's (CCSWA)
April 30th, Wednesday, 10-11:30AM, 2E37 MSC:  Greening Marshall Meeting
May 3rd, Saturday
- "E-Recycling Event": 8AM-3PM @ the 5th Ave Kroger in Huntington. Hosted by the Cabell County Solid Waste Authority's (CCSWA). Bring your old computers, TV's, DVD players, etc. "We'll take anything with a cord."
- Tour de PATH: 11AM @ Pullman Square
---
*STUDENT YARD SALE: April 12th 11AM-2PM*
Register and Sell Your Stuff!
Register here http://tinyurl.com/m53uxww
and bring a $5.00 deposit to Tiffany Hughes to reserve your table.
(Holderby Hall 304.696.2580) You will get your $5.00 deposit back at the YardSale.
You can also find us and register in person at the following locations from 9AM-3PM:
4-4: Gibson and Haymaker
4-7: Wellman and Willis
4-8: North and South Freshman
4-9: Marshall Student Center Lobby
---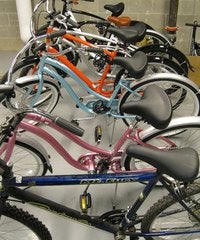 To checkout a bicycle, come to the Main Desk at the Recreation Center.
Membership is "Free" to all students, faculty, staff, and Recreation Center members.
All you need is:
- your student or staff ID
- a debit or credit card (to reserve the bike)
For more information go the the EcoCycle webpage!
---
REDUCE YOUR CARBON FOOTPRINT
Leaving your car at home twice a week can cut greenhouse gas emissions by 1,600 pounds per year.  If you commute to work, ask if you can work from home at least some days, and you'll reduce air pollution and traffic congestion – and save money. More information: More Information from the EPA
---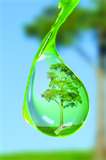 Be sensible! The Earth might seem like it has abundant water, but in fact only one percent of all water on the planet is available for humans.  Buy fixtures and products that  are water efficient – you can use less water to get the same job done just as well.  When you go shopping, look for the WaterSense label to find water efficient products.
Play the podcast (MP3, 636KB, runtime 0:39) | More about WaterSense. http://www.epa.gov/earthday/tips2.htm
---
OASIS Bottle Fill Stations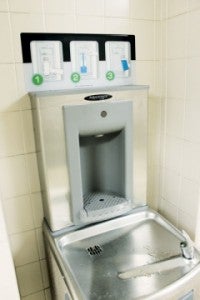 OASIS Bottle Fill Stations are installed throughout campus buildings.
Each fountain provides clean "Green" filtered, refrigerated water.
To learn more about the bottle fill stations, please click OASIS.
"The Facts About Bottled Water", click bottle.