Welcome to the Sustainability Department
Margie J. Phillips RBA/MS
Sustainability Manager
email:  philli10@marshall.edu
telephone:  304-696-2992
fax:  304-696-2437
Let us all work together to "Be Marshall Green"!
---
Greener Purchasing that Saves
"How to save money while reducing your environmental footprint"
Date:  November 7, 2013
Time: Yalmaz will speak at 11:00 am, with Venders opening 10:00 am – 3:00 pm
Venue:  BE5 Memorial Student Center   [Lunch will be provided]
Register by clicking the RSVP at:  http://www.marshall.edu/calendar/index.php?eID=66321
Speaker: Yalmaz Siddiqui, Senior Director Environmental Strategy, Office Depot
Yalmaz sets environmental policy at Office Depot and helps integrate green initiatives into all major functional areas of the global organization. Under his leadership, Office Depot was ranked America's #1 Greenest Large Retailer in 2010, 2011 and 2012 by Newsweek Magazine. He is Co-Chair of the Sustainable Purchasing Leadership Council (purchasingcouncil.org); and has been the only Private Sector recipient of the Responsible Purchasing Network's Responsible Purchaser Award. Before Office Depot, Yalmaz was a Consultant with IBM and PwC. He has a Bachelor of Commerce from McGill and a Masters in Environment & Development from Cambridge. Yalmaz is known for simplifying environmental concepts in a fun and compelling way
_______________________________________________________________________________

Sustainability Lecture Series
Sponsored by:  Aetna Building Maintenance
Slide Presentations from past presenters:
---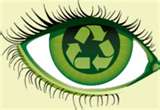 The Greening Marshall Committee is a comprised of Marshall University students, faculty, and staff who are dedicated to formulate ideas and methods of implementation for environmental stewardship and sustainable conservation. The Committee meets monthly throughout the year.
Please email bemarshallgreen@marshall.edu for details.
Greening Marshall Committee Meetings are held in the Memorial Student Center, 2:00 – 3:30 PM.
Meeting Schedule for Fall 2013:
Wednesday, October 16, 2E37 MSC
Wednesday, November 13, 2E37 MSC
---
Information below provided by the U.S. EPA:
ENVIRO-TIP OF THE MONTH
Buy rechargeable batteries to accompany electronic gifts, and consider giving a battery charger as well. Shop for Energy Star qualified gifts! Give the gift of energy savings this season and
every season. Energy Star Products
WHAT YOU CAN DO, WHAT YOU CAN USE
Green Your Winter and Your Holidays! Reuse shopping bags and carpool on shopping trips. Have your home heating serviced to keep it efficient. Get tips to help prepare for snow and ice storms.
More Information from the EPA
REDUCE YOUR CARBON FOOTPRINT

Leaving your car at home twice a week can cut greenhouse gas emissions by 1,600 pounds per year.  If you commute to work, ask if you can work from home at least some days, and you'll reduce air pollution and traffic congestion – and save money. More information: More Information from the EPA
---
Marshall Eco Cycle Bike Loan Program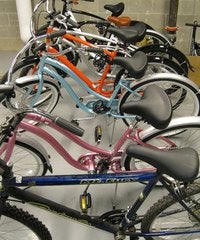 To checkout a bicycle, come to the Main Desk at the Recreation Center.
Membership is "Free" to all students, faculty, staff, and Recreation Center members.
For more information go the the Eco Cycle webpage!
---
OASIS Bottle Fill Stations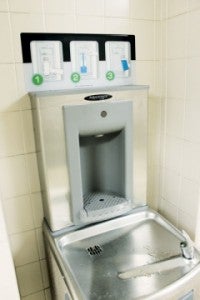 OASIS Bottle Fill Stations are installed throughout campus buildings.
Each fountain provides clean "Green" filtered, refrigerated water.
To learn more about the bottle fill stations, please click OASIS.
"The Facts About Bottled Water", click bottle.
---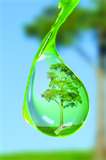 Be sensible! The Earth might seem like it has abundant water, but in fact only one percent of all water on the planet is available for humans.  Buy fixtures and products that  are water efficient – you can use less water to get the same job done just as well.  When you go shopping, look for the WaterSense label to find water efficient products.
Play the podcast (MP3, 636KB, runtime 0:39) | More about WaterSense. http://www.epa.gov/earthday/tips2.htm
---
Sustainability Department Purpose
The purpose of the Sustainability Department is to:
help faculty, staff and students learn about the benefits of sustainability
educate on how actions impact energy consumption, both on and off campus
motivate users to modify behavior(s) so that energy consumption and sustainability is part of each persons daily activity
to demonstrate the University's commitment to reducing energy consumption and developing sustainable initiatives
I welcome your ideas and suggestions, please send them to philli10@marshall.edu.
---
Mission Statement
The Marshall University Sustainability Department will consistently strive to maximize the conservation of energy resources, preserve and improve the environment, and develop strategies to bring all areas of the campus together in one united effort to reduce the University's environmental impact on our local, state, and the global communities for future generations.
Vision Statement
Tto be environmentally conscious in all decision making activities and employ sustainable practices and actions in the daily use of the Earth's limited natural resources.
The "Student Green Fee" will be utilized to help the University look for ways to conserve water and energy, reduce waste and incorporate green technologies and materials into its planning and operations.
---
Top 10 Rules for Saving Energy
What is Pepisco (Pepsi) doing Sustainable?
Click the link:  http://www.pepsico.com/Purpose/Environmental-Sustainability.html
Recycling with the Marshall University Tailgaters
Comparison of Incandescents to Compact Fluorescents
Energy-Saving Strategies for Household Electronics, visit AEP's site:
https://www.appalachianpower.com/save/eNewsletter/2-25-2010/story1.aspx
Wellness Fair held on March 17, 2010 in BE5 Memorial Student Center Pictures