EARTH DAY • April 22nd
10AM-2PM
@ MU Student Center Plaza
Join us for some great fun and celebrate our green earth.
A wild variety of workshops, presenters, and participants will fill this event with green and sustainable learning opportunities. Visitors both young and old will be entertained and engaged. Join us for some great fun and celebrate our green earth.
Come celebrate the splendor, beauty and diversity of our planet, and help spread the environmental message of Earth Day.
Over 40 local organizations, groups and businesses will be at our Earth Day event to share their commitment to our planet, and promote real action that will create a stronger, healthier, happier community.
---
Come celebrate Earth Day
Wednesday, April 22nd
10:00 am – 2:00 pm
Memorial Student Center Lobby, Plaza and Buskirk Field
Launching Earth Day is the Unitarian Fellowship of Huntington Drum Circle!
Bring your own drum or use one supplied by the group and join in the celebration!
Also demonstrating 'Fire-spinning' and 'Smudging'!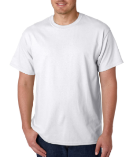 T-shirt imprinting with the Earth Day logo.  In partnership with Goodwill Industries and the Marshall School of Art & Design, College of Arts and Media.  Goodwill will supply donated used t-shirts or you may bring your own.  Two students from the School of Art & Design designed the logo!  Only 150, first come first served!!

Marshall Libraries – Book Swap
Bring your old books and swap!  A great way for avid readers to save money and is a great way to save a tree.  Used books free to new homes!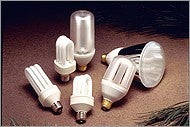 WVa. Electric will host a "Bulb Exchange"
Bring an incandescent bulb and exchange for a CFL.  Incandescent bulbs waste energy, 90% of the energy is heat!  While supplies last!
Huntington Museum of Art is bringing their indoor and outdoor nature programs  together!  Dr. Mike Beck, Conservatory Director, will display several of his famous orchids and the blue poison dart frogs!!  Their Nature Docents will be on hand talking about hiking the hills and showing images of the trail.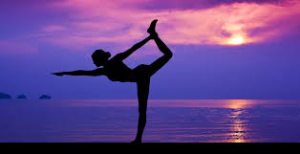 Gina Hart-Smith, Yoga Instructor, Learn techniques of Earthing wherein we connect to the energy of the Earth using Yoga, Dance, Chanting and Meditation. No mats are necessary, starting around 10:30 am. One may wish to bring a cotton towel to sit on during relaxation.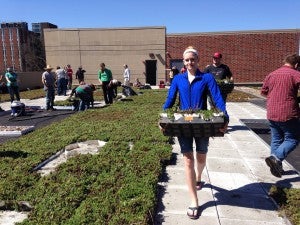 Did you miss out on the installation of the Green Vegetative Roof on campus?  Travis Bailey, Environmental Specialist, will host tours of both vegetative roofs every hour.  Meet Travis on the Student Center Plaza by the Memorial Fountain at the times below!
10:00 am
11:00 am
12:00 pm
1:00 pm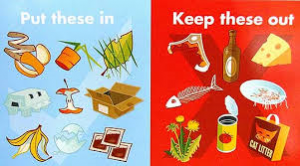 Sustainable Lunch: Plan to bring a paper bag lunch or use a reusable lunch box, then come to the plaza to eat and enjoy a beautiful spring afternoon!  After eating, come by the Recycling table by the Memorial Fountain to compost leftover food scraps and learn more about composting!
Other groups/activities are:
Greater Huntington Park & Recreation District:     Outdoor recreation
Huntington Cycle and Sport:     Bicycle information
Chipotle Mexican Grill:     Free sofritas samples!
Glass from the Past:     Recycling glass
Ohio Valley Environmental Coalition (OVEC):     Brochures, books, buttons & stickers
Student Association of Nutrition & Dietetics:     Nutrition from the Earth
Marshall Environmental Science Association:     Hands on activity dealing with the history behind Earth Day
Dutch Miller Chevrolet:     Come see the electric Chevy Volt
Help for Animals Clinic:     Information about spaying and neutering
Fourpole Creek Watershed Association:     Information and maps on the biodiversity of ecosystems in Huntington
Marshall Chapter of American Fisheries Society:     Display of crayfish and mussels
Marshall Recreation Outdoor Pursuits:     Rec Center info, Outdoor Pursuit info, and the Eco Cycle Bike Loan Program
Goodwill Industries of KYOWVA Area, Inc:     Recycling info, clothing donation program, job training, and craft project
Enterprise Holdings:     Car share information
MU PROS:     Campsite display, animal footprint molds, leave no trace info, knot tying, and the Huge Earth Ball
Marshall Sustainability Department:     Campus gardens and herb giveaway, Bicycle Generator
Scuba Club:     Slide show of recent dives, scuba equipment, fish ID posters, and fliers
Citizens Climate WV:     Brochures and videos
Sustainable Living for WV:     Environmental information, and the May 16th Sustainability Fair
West Virginia Youth Action League:     Stickers, brochures, buttons, and music
Marshall Career Services:     Promoting green jobs
Marshall Honors 200/Sustainability Dept:     Craft activities include making fish from plastic bottles and cherry blossom stamping design; Sign a Green Pledge and receive a reusable tote!
Kate McComas:     Demonstrating spinning and natural dyeing
Laura Michele Diener:     Showcasing how natural dyes work and how to spin wool from llamas, alpacas, and sheep
Shaw Industries:     Literature, handouts, DVD showing Green efforts of Shaw
Big Brothers Big Sisters:     Information about the program and volunteer sign up
Housing and Residence Life:     Sustainable education in the residence halls, sustainable initiatives, giveaways, and the grass cell project
Larry Cartmill, Herpetologist:     WV reptile display with emphasis on conservation and education
New Baptist Church:     Making rugs from plastic bags
Healthy Life Market:     Giveaways and samples
---
For more information, you can also email us at BeMarshallGreen@marshall.edu, or contact our event coordinator Capri Billings at holderby7@marshall.edu, (304)690-5611. www.marshall.edu/sustainability/earth-day-2015/
---
*VOTE 4 US!* Fund our Gardens with Daily Votes!
Please VOTE DAILY for the "Marshall University Sustainability Gardens" and help us receive a much needed grant to grow our gardens!
Please visit www.SeedsOfChangeGrant.com and vote Every Day from now till April 27th.
When you follow the link, copy and past the "Marshall University Sustainability Gardens" into the Garden Name field and you will find us.
Winning this grant will help us fund our Marshall University Sustainability Gardens, expand our education outreach, and share the importance of Sustainability.
The MU Sustainability Gardens would use this grant to educate community children and adults on fresh foods, gardening, and healthy sustainable living. A half-century of depopulation has left the city of Huntington, WV with a 30% poverty rate, significant food insecurity issues, and an obesity epidemic among children and adults. To combat this serious community health crisis, teaching about organic growing methods and fresh nutrition is imperative. Our program will work to reach at-risk children and youth, and community residents, with the knowledge needed to grow their own food and save money, to reinforce healthier choices, and to live a more active lifestyle. Our Sustainability Gardens, used as hands-on-learning environments, will engage our participants. Our program will empower them, expanding their interest in raising and eating fresh produce, and incorporating sustainable methods in their lifestyle. Visit marshall.edu/sustainability for more information.
Our garden is in the running for a generous grant from Seeds of Change®! Vote for us every day!
---
The Green Roof installation at the new Engineering Complex went so well, it is hard to believe. We had over 90 volunteers show up to help out, and we finished early, before 3pm! Couldn't ask for better than that.
---
APRIL

"Student Garden Volunteer Days" – Thursdays from 4-7PM @ the MU Student Gardens (Behind the Career Services Center). Come join us for a work day in the student gardens! Students, staff, and faculty are all welcome. This month, we will begin planting spring and summer crops, as well as flowering plants for our Butterfly and VIP gardens, so extra hands would be greatly appreciated.
"Meatless Mondays"  – join us in the "Meatless Mondays" challenge. Eating less meat reduces demand, greenhouse gas emissions, water pollution, and our carbon footprint, all from changing one simple meal choice. All dining halls offer meatless options, too, so it is super easy. Visit us at the MU Student Center on April 6th and 20th.
Rooftop Garden Installation – April 1st @ the new Engineering Building READ MORE!
APR 22, EARTH DAY – On Wednesday, April 22nd, Marshall will host a campus and community style Earth Day Celebration. A wild variety of workshops, presenters, and participants will fill this event with green and sustainable learning opportunities. Visitors both young and old will be entertained and engaged. Join us for some great fun and celebrate our green earth. If you would like your department, organization, or business to participate in our event, please Contact Us.
APR 29, Wednesday, 2PM:  Greening Marshall Meeting @ the SMB Conference Room (327 20th St – Physical Plant, 2nd Floor)
---
Live Happy Health Day – March 25th
The Marshall University Sustainability Department will be participating in a campus health fair titled "Live Happy Health Day" from 11am-1pm on Wednesday March 25th. The fair is presented by the MU Student Association of Nutrition and Dietetics (MU SANDS), and will encompass the many things that make up a healthy lifestyle.
Come find out more about the EcoCycle bike loan program, the MU Student Gardens, and how sustainability is a healthy choice for you, your home, and your community.
Bike Loan program opens March 1st!
Reduce Your Carbon Footprint with Eco Cycles: Starting March 1st, students, faculty, and staff, or anyone with a Rec Center pass, will be able to check out an Ecocycle bike for FREE. READ MORE
Check out our second MU Sustainability Department video: Reduce Your Carbon Footprint by borrowing a bike for free through the Eco Cycle Bike Loan Program
Our Sustainability videos are on Marshall's Youtube page at http://www.youtube.com/user/HerdVideo.
We look to create a new Sustainability video each month! Future Sustainability segments will include the Recycling program, the Sustainability Gardens, Energy Efficiency, and more! We'd like to thank University Communications for all their help with our Public Relations efforts.
---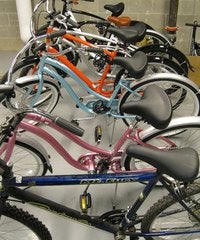 To checkout a bicycle, come to the Main Desk at the Recreation Center.
Membership is "Free" to all students, faculty, staff, and Recreation Center members.
All you need is:
– your student or staff ID
– a debit or credit card (to reserve the bike)
For more information go the the EcoCycle webpage!
---
Meatless Mondays
What You Eat Matters!
Turning off the lights, not letting the water run while brushing your teeth, reducing and recycling, riding a bike instead of driving, using reusable bags at the grocery store; these are usually the first things that come to mind when you think about living more sustainable. However, one of the most effective ways to go green, is to change your food choices.
Every time you sit down to eat, you can choose a better future for you and future generations. Eating lower on the food chain will help create more sustainable food systems that not only benefits us, but the entire planet.
Stop by our table at the MU Student Center on FEB 23rd to find simple delicious recipes (a new one each week), and a list of veg friendly dining/shopping close to campus!
Download our Flyer Here: Meatless Monday flyer – PDF
---
Thank You Dunn Foundation!
A big heart-felt THANK YOU goes out to the Dunn Foundation, who awarded the MU Sustainability Department a $5,000 grant to help us with our education outreach efforts, and to help us install signage along our campus Green Tour trail. Keep  your eyes open this spring for new signs and fun interactive activities.
---
Food Day, 100 Mile Meal, and Campus Sustainability Day all a success!
At Towers Market Place on Oct. 23rd, the MU Student Association of Nutrition and Diatetics, in partnership with MU Dining Services and the MU Sustainability Department, hosted a wonderful 100 Mile Meal, highlighting excellent locally sourced foods from area farmers and producers. On Oct. 24th, MU SAND and the Sustainability Department continued our education outreach, as a celebration of both National Food Day and Campus Sustainability Day.
---