NOVEMBER
---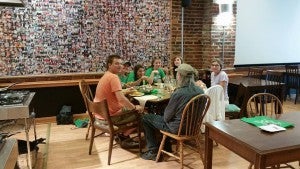 Garden-To-Table cooking event a Success!
We would like to thank everyone who participated in our first Garden-to-Table cooking event last Friday. Also a big thank you to Huntington's Kitchen for allowing us to use their amazing space for the event. We made a delicious, simple garden spaghetti with bruschetta using ingredients harvested from our very own student gardens here on campus. It was our pleasure to share with the community our harvest and to teach how to prepare food easily grown in your own backyard or patio! It was a wonderful experienced shared by all. The Sustainability Department is proud to be a part of a more sustainable local food system and to help improve access to fresh, healthy foods on campus and beyond.
---

Green Trail SELFIE Scavenger Hunt
Starting during WOW, Aug 19th-21st, students are encouraged to participate in our Green Trail SELFIE Scavenger Hunt. It is a great way to tour Marshall's campus greening efforts, have fun, and win prizes.
The first 20 scavengers to successfully follow the instructions and submit their selfie photo collections will win prizes, such as: t-shirts, reusable grocery totes, reusable cups, etc. They will also win high Green accolades from the Marshall University Sustainability Department and the Green Trail Project.
---
Guided Tour of the Green Trail – Aug 20th
Join Us and REGISTER for our Guided Tour of the Green Trail on Thursday, August 20th from 5-6PM.
Capri Billings, Sustainability Education Assistant, will take participants on a guided tour of Marshall University's Green Trail. Enjoy the lush beauty of our gardens and learn about the many sustainable initiatives across campus.
Participants in the Guided Tour must REGISTER FIRST, and arrive by 4:50pm @ the Memorial Student Center Plaza.
Contact: Capri Billings, holderby7@marshall.edu, 304-690-5611.
---
The Sustainability Music Fest was a Success!
For more information about this project visit: www.HuntingtonSustainabilityFair.com.
---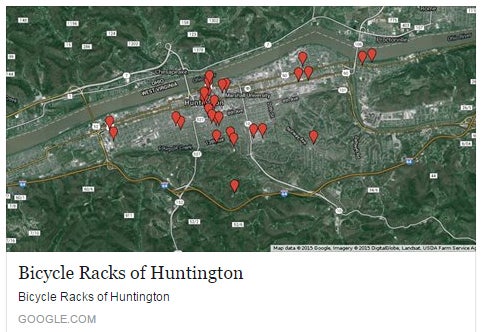 Check out this Google map listing the bicycle racks located throughout Huntington, WV.
https://www.google.com/maps/d/u/0/viewer?mid=zABko_9hfJJQ.kw3tIw1t8yeg&usp=sharing
---
In spite of the rain, we had over 300 visitors to Huntington's first Sustainability Fair, and the word is out that people want more. Here are some photos from the fair, and you can see more at www.HuntingtonSustainabilityFair.com.
---
EARTH  DAY
Success!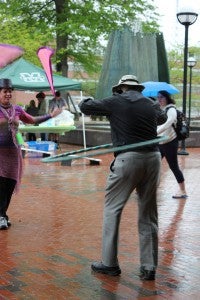 Our Earth Day event on Aprill 22nd at the MU Student Center was a success! A wild variety of workshops, presenters, and participants filled our event with green and sustainable learning opportunities. Visitors both young and old were entertained and engaged, had some great fun, and celebrated our green earth. Over 40 local organizations, groups and businesses were at our Earth Day event to share their commitment to our planet, and promote real action that will create a stronger, healthier, happier community. For more information, you can also email us at BeMarshallGreen@marshall.edu, or contact our event coordinator Capri Billings at holderby7@marshall.edu, (304)690-5611. www.marshall.edu/sustainability/earth-day-2015/
---
Green Roof Success!
The Green Roof installation at the new Engineering Complex went so well, it is hard to believe. We had over 90 volunteers show up to help out, and we finished early, before 3pm! Couldn't ask for better than that.
---
Live Happy Health Day – March 25th
The Marshall University Sustainability Department will be participating in a campus health fair titled "Live Happy Health Day" from 11am-1pm on Wednesday March 25th. The fair is presented by the MU Student Association of Nutrition and Dietetics (MU SANDS), and will encompass the many things that make up a healthy lifestyle.
Come find out more about the EcoCycle bike loan program, the MU Student Gardens, and how sustainability is a healthy choice for you, your home, and your community.