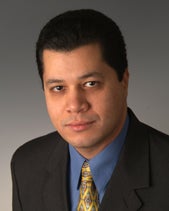 Welcome!
As the Dean of Marshall University's College of Engineering and Computer Sciences (CECS), it is my distinct pleasure to welcome you.
From its inception, CECS has been dedicated to the delivery of undergraduate and graduate programs in high-technology fields that optimize opportunities for our students and that support the growth and reputation of our university, state, and region. As we develop new and existing programs in engineering, computer science, and related technology fields, we embrace and honor Marshall's long-standing traditions in education while moving forward at a pace that prepares our graduates for the challenges and exciting opportunities that lie ahead in a continually changing global technology environment. We believe that infrastructure, industry, and innovation are the cornerstones of our economy, and we do all that we can every day to support these endeavors.
Whether you're exploring our web-site or walking around campus, the signs of CECS's growth are obvious. Our college has had an average student growth of 20%, and our faculty and staff have grown accordingly since opening the Arthur Weisberg Family Engineering Laboratories on the Huntington campus, a state-of-the-art building in 2008. Along with the many unique assets and advanced opportunities for students in Marshall University, the Arthur Weisberg Family Applied Engineering Complex was designed with a magnificent, eye-catching and very welcoming centralized atrium that serves as window into the building. Faculty offices are intermingled among the departments as well as the many collaboration stations located outside the faculty offices. The collaboration stations are integrated with cutting-edge technology that promotes unprecedented student/faculty interaction opportunities. This complex houses one of very few advanced materials testing labs in the region and in the nation. Our faculty is comprised of professionals who not only are respected and successful in their fields of study, but who also are dedicated to the pursuit and dissemination of knowledge in all its forms. CECS students have the benefit of daily interaction with their professors, who pride themselves on being available for questions, discussion, and continued mentorship of students. That's something you won't find everywhere, but we believe it is an important part of our collective mission here.
We hope that you find all the information you need here, and encourage you to check back with us often for updates. As always, please don't hesitate to contact any of us with your questions or comments.
Sincerely,
Wael Zatar
Dean and Professor of Engineering
Mission
CECS will be a recognized leader in practice-oriented teaching and applied research.
CECS is committed to serve the lifelong educational needs of students, new graduates, working professionals, and employees.
CECS builds on combined traditions of student-focused education, entrepreneurship, and funded research and service emphasis.
CECS provides education when and where needed, incorporating technology-enhanced methods, by full-time, dedicated faculty complemented by expert adjunct faculty from industry and government.
Contact Information
Do you have a question or comment? Please send us an email to cecs@marshall.edu
Huntington Campus
Marshall University | WAEC Room 2103
One John Marshall Drive
Huntington, WV 25755
Phone: 304-696-5453
Fax: 304-696-5454
South Charleston Campus
325 Administration Building.
100 Angus E. Peyton Drive South Charleston, WV 25303
Toll-free: 1-800-642-9842 extension 2041
Local: 304-746-2041 or 304-746-2042
Fax: 304-746-2063
Directions
Arthur Weisberg Family Applied Engineering Complex
The Arthur Weisberg Family Applied Engineering Complex is located on Third Ave between 17th Street and Hal Greer Boulevard. It is across from the Science building and west of the existing Robert C. Byrd Biotechnology Center.
Where Is My Class?
When you enter the Arthur Weisberg Family Applied Engineering Complex, please use the touchscreen monitor at the base of the J. Churchill Hodges Atrium steps, to locate the desired office.
In South Charleston, CECS meets in classrooms in the Administration Building and the Robert C. Byrd Academic and Technology Center.