Fibers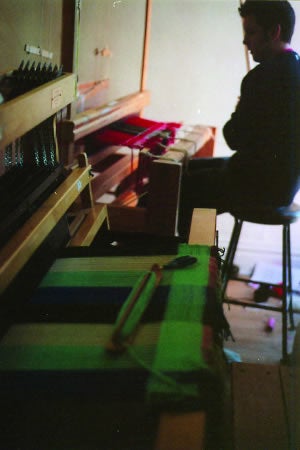 The Fibers emphasis of the School of Art and Design concentrates on the exploration of fibers as a means of individual expression, while studying traditional as well as contemporary techniques for loom controlled manipulation of fibers. Students learn to operate a variety of looms including table looms, counterbalance, jack-type and dobby looms from four to sixteen harnesses and from 20" to 60" in width. Various weave structures are examined in projects as diverse as blankets, rugs, yard goods, wall hangings and three-dimensional pieces. Tapestry looms, belt looms and card weaving as well as basketry are also explored.  Spinning, dyeing and felt-making and fabric printing and dyeing may also be studied.
Students begin study of fibers in the third or fourth semester after participating in basic drawing and design courses and a computer skills class specifically for the art and design major. Students must pass a Sophomore Review of work produced in these classes and in the first course in the fibers sequence before being admitted to the area of emphasis.
Advanced students can elect to concentrate in areas concerned with the designing of textiles, the creation of functional fiber products or the use of fibers as a means of artistic expression. Each student is required to take eight courses (24 credit hours) in the area of emphasis in order to develop a mastery of the technical requirements of the media, craftsmanship and the ability to endow project solutions with personal content. The school also encourages interdisciplinary approaches to the exploration of each area of emphasis. Suggestions are made to each student for the appropriate investigation into the historical development of the media, contemporary approaches and possible relationships with other arts and disciplines.
The culmination of the Bachelor of Fine Arts degree program is a Capstone project developed by the student in consultation with a faculty advisor. The student's work on this project is shown in a Senior Exhibition in the school's Birke Art Gallery or in another venue on the Marshall University campus.