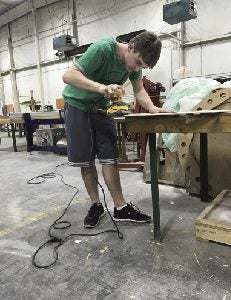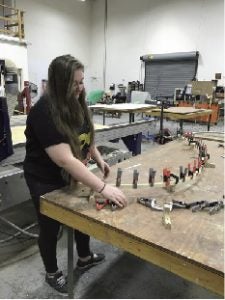 The Sculpture emphasis provides an exciting environment in which the student can gain a formidable vocabulary of production techniques and critical thinking skills while discovering and refining a cohesive body of personal creative work.  The learning experience is both challenging and exhilarating.
What is it like to be a sculpture student at Marshall?
Sculpture today is not what it used to be.  It has become an expansive arena, encompassing all forms of visual expression that are three-dimensional.  Carving, modeling and casting, the oldest of the traditional methods have been joined by welding, wood fabrication, industrial processes, collage, site specific works and now computer imaging.  It is vital that each Sculpture BFA candidate become fully competent in many areas of technical expertise while simultaneously gaining competency in different modes of critical thinking and creative problem solving.
The Sculpture Studio is an 8,000 square foot warehouse space with 28 foot ceilings.  It is a spacious environment with room for each student, beginning through advanced, to learn technique and refine their artistic vision.  The equipment available to the student is extensive and is professionally maintained by faculty and technical staff.  Safe studio practices are taught and strictly maintained so that each student can not only learn them, but apply them throughout their entire professional career.  While experimentation is encouraged and recognized as a necessary part of the creative process, it takes place in an orderly and safe environment.  All sculpture students are provided with their own personal studio spaces.