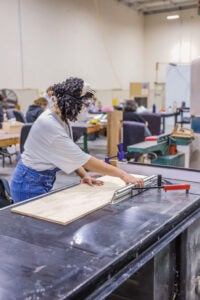 The Sculpture emphasis provides an exciting environment in which the student can gain a vocabulary of production techniques and critical thinking skills while discovering and refining a cohesive body of personal creative work.  The learning experience is both challenging and exhilarating. Click here to see the Degree Outlines.
What is it like to be a sculpture student at Marshall?
In the Sculpture Emphasis we think conceptually, work interdisciplinary, experiment readily, and form a deep skillset in a wide range of materials using numerous processes. Our students become adept in the wood and metal shops along with becoming proficient in computer-aided design and construction. We experiment with video and sound installations, performance, social practice, public art, and aspects of post-studio artmaking. All these ways of making demand critical thinking skills to invent creative solutions. In addition to extensive hands-on work, students can expect to get an in-depth understanding of contemporary sculpture and the artists who are expanding the field.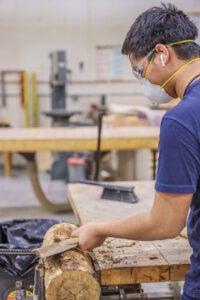 The Sculpture Studio is an 8,000-square-foot warehouse space with 28-foot ceilings.  It is a spacious environment with room for each student to learn techniques and refine their artistic vision.  The equipment available is extensive and professionally maintained by faculty and technical staff.  Safe studio practices are taught and strictly maintained so that each student can not only learn them but apply them throughout their entire professional career.  While experimentation is encouraged and recognized as a necessary part of the creative process, it takes place in an orderly and safe environment.  Sculpture students are also provided with their own personal studio spaces.
A range of co-curricular activities are encouraged including an annual trip to NYC, summer workshops at Penland, Arrowmont, or Anderson Ranch School of Craft, and study abroad through the Kentucky Institute for International Studies, KIIS.
360 panorama