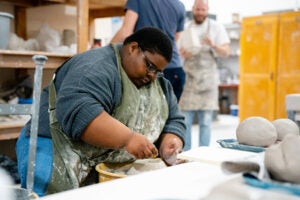 In Ceramics, students begin their study with traditional materials, hand-building, and wheel-throwing. Upper-division courses encourage exploration and experimentation with materials and processes beyond clay and glaze. Craftsmanship, critical inquiry into materials and processes, and the development of a strong conceptual voice are emphasized throughout the curriculum. These support the development of an interdisciplinary practice incorporating varied media, traditional techniques, and contemporary technologies.
Click here to see the Degree Outlines.
What is it like to be a ceramics student at Marshall?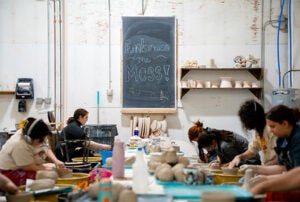 All students in the School of Art & Design take foundations courses to experiment with as many media as possible. In ceramics, we encourage material and conceptual experimentation with clay. Upper-division courses such as Combined Ceramic Processes, and Advanced Ceramic Sculpture strengthen the student's conceptual mindset and many students study ceramics because they can explore design challenges in three-dimensional space. From illustration and line work to formal issues relating to color and design, to how form activates space; the breadth and diversity of the discipline is immense. Because ceramics majors become adept designers, graduates of the program often pursue advanced degrees in ceramics, architecture, industrial design, or interior design.
The Ceramics area is home to one of the mo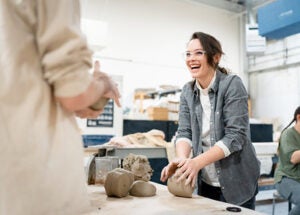 st active student organizations within the School of Art and Design, the Keramos Clay Club. Student members host sales each semester to raise money for studio needs and the opportunity for students to travel to the annual ceramics conference, the National Council for Education in the Ceramic Arts Conference (NCECA). NCECA highlights trends in contemporary ceramics with lectures and demonstrations from nationally renowned artists.
Students in the program can give back to the community by participating in ceramics service-learning courses where students work with Facing Hunger Foodbank in conjunction with Empty Bowls. The Ceramics area has participated in this worldwide fundraiser for the past twenty years.
360 panorama