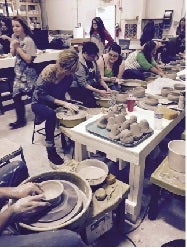 The Ceramics area at Marshall is built upon a foundation of understanding traditional materials and processes. At the foundation level, there is a dual focus on both hand-building and wheel throwing, each allowing students to open up to different aspects of these traditional formation processes. Click here to see the Degree Outlines.
Upper division courses are taught in an atmosphere that promotes material exploration and experimentation with process and materials other than clay and glaze.
Students are encouraged to develop an understanding of craftsmanship while simultaneously developing a strong conceptual voice within their work. Critical inquiry of materials and methods is encouraged for the goal of a seamless interdisciplinary practice. Ceramics history and its relationship to contemporary technologies, such as 3-D printing, creates a foundation for creating in the ceramics studio.
What is it like to be a ceramics student at Marshall?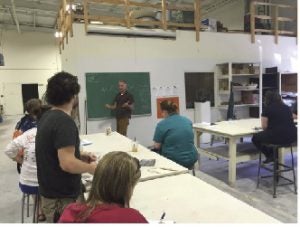 All students in the School of Art & Design are prepared for their upper division classes through a foundations program with a focus on experimenting and trying as many media as possible, and then integrating those media when possible. The ceramics area furthers this interdisciplinary approach through encouraging material explorations as they relate conceptually back to experimentation with clay. Specific courses guide students through learning the intricacies of the material such as in the hand-building class. Both the beginning and intermediate pottery or throwing on the wheel classes are designed as service learning classes where students get hands-on experience with the Empty Bowls event, which raises money for the local food bank. Upper division classes strengthen the conceptual rigor of student work with classes such as Combined Ceramic Processes, Advanced Ceramic Sculpture and classes which are more materially centered such as clay and glaze chemistry.
Many students enter ceramics because they realize they can explore many different design challenges within the field of ceramics. From illustration and line work, to formal issues relating to color and design, to how form activates space; the breath and diversity of the field is immense. Concentrating in ceramics at Marshall reflects students who are vigorous workers and are determined designers within three dimensional space. Students who concentrate in ceramics are prepared for all the design challenges with the medium of clay, while many students who study clay at the undergraduate level move on to graduate studies in ceramics, or related fields such as Architecture, Industrial Design, or Interior Design.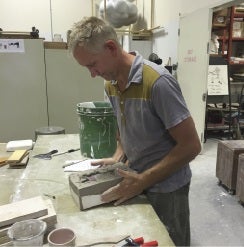 The ceramics area is home to one of the most active student organizations within the School of Art and Design, the Keramos Clay Club. Student members host several sales each semester in an effort to raise money for studio needs as well as the opportunity for students to travel to the annual ceramics conference, the National Council for Education in the Ceramic Arts conference. Held in a different city every year, this conference highlights what is happening in contemporary ceramics with lectures and demonstrations from nationally renowned artists. In addition to the NCECA conference, ceramics faculty encourage student participation with other trips sponsored by the School of Art & Design.  Ceramics students at Marshall gain valuable insights into the culture, history and trends within contemporary art.
360 panorama