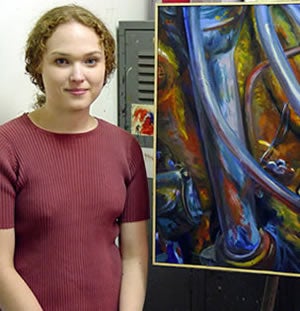 Painting is recognized as one of the oldest forms of art making in human civilization. Contemporary painting is a diverse practice that embodies and challenges both tradition and innovation. Relevant the world over and in all its forms, the act of painting continues to be at the forefront of artistic and historical discourse. Click here to see the Degree Outlines.
What is it like to be a painting student at Marshall?
The School of Art & Design emphasizes the connection between fundamental art classes in the Foundations Area and more advanced studies. These foundation classes have many practical and theoretical uses, not only at the undergraduate level but also, throughout the artist's career. Learning about other cultures, empathy, the history of art and contemporary art activity is essential. Knowledge combines with practice to produce richer and more sophisticated imagery and objects.
Painting in the School of Art & Design is firmly rooted in an exchange between traditional approaches and expansive notions of what it means to make paintings in the twenty-first century. Clear guidelines cultivate reflection with intuition and discipline with craft. The individual approach begins to vary as students gain skills and analytical experience. Advanced painting students develop and discover new and unexpected imagery in a range of media and applications.
The Painting Emphasis Area curriculum offers one of the most flexible courses of study in order to challenge students to consider contemporary painting in a broad and personal context. This is one of the strongest aspects of the painting program – students are encouraged and challenged to develop both intellectual and technical independence. The result is formidable confidence, a willingness to take risks and the ability define ones own artistic position, which leads to intelligent creative exploration over a lifetime.
360 panorama