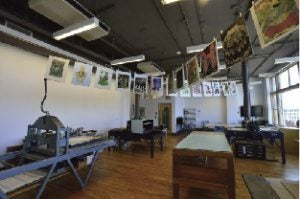 Printmaking is a viable and relevant major in the School of Art and Design that serves students seeking a wide range of visual art experiences in Etching, Lithography, Papermaking and Bookbinding, Relief, Screen Printing, and Mixed Media, printing techniques. Click here to see the Degree Outlines.
The School of Art & Design offers a wide range of experiences in Traditional and Innovative Printmaking. Students are exposed to contemporary approaches utilizing printmaking techniques for the development of ideas and art on and off paper.
What is it like to be a printmaking student at Marshall?
The Printmaking facilities house four etching presses, two large lithographic printing presses, three letter presses, type cases, and screen printing rooms with exposure units and dark room. Facilities also support study in papermaking with accessible beater, pulp painting wet room, and bookbinding finishing room. Students have access to three shop computers and technical support from digital printing labs. A wide range of extra-curricular activities are encouraged that include annual art and design Annual New York City Trip, application to summer workshops, and attending the Southern Graphics Council International and Mid- Atlantic Printmaking Conferences.
Graduates from Marshall University Art and Design Printmaking program have continued their education in graduate programs throughout the continental US and have acquired careers teaching or in the Arts. Many students have made careers in the commercial printing industry and graphic design fields.
360 panorama