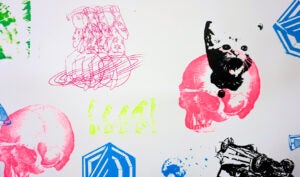 Printmaking introduces students to traditional and contemporary practices utilizing techniques that facilitate the development of ideas and art on and off paper in a healthy, sustainable environment. Courses investigate form and content as it relates to printmaking processes in intaglio, lithography, relief, serigraphy, letterpress, and papermaking. An extensive range of rare letter type is available to support book arts. Click here to see the Degree Outlines.
The School of Art & Design offers a wide range of experiences in Traditional and Innovative Printmaking. Students are exposed to contemporary approaches utilizing printmaking techniques for the development of ideas and art on and off paper.
What is it like to be a printmaking student at Marshall?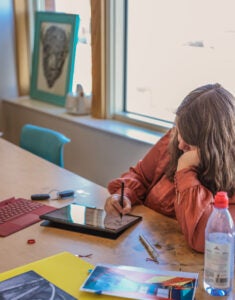 Professor McDermott pushes students to learn through experience, approach problems in a holistic manner, develop their technique, use problems as a springboard for development, and troubleshoot by breaking issues down by isolating variables. She encourages students to venture outside of the confines of art courses while growing in their own art practice, to delve deeper into topics of interest via research, and to get involved with the community inside and outside of the School of Art and Design.
SOAD Printmaking facilities house four etching presses, two large lithographic printing presses, three letter presses, type cases, and screen-printing rooms with exposure units and a dark room. Facilities also support papermaking with an accessible beater, pulp painting wet room, and bookbinding finishing room. Students have access to shop computers and technical support from digital printing labs. A range of co-curricular activities are encouraged including an annual trip to NYC, summer workshops at Penland, Arrowmont, or Anderson Ranch School of Craft, and conference attendance including the Southern Graphics Council International, and Mid- Atlantic Printmaking Conferences. Study abroad opportunities are also offered through the Kentucky Institute for International Studies, KIIS.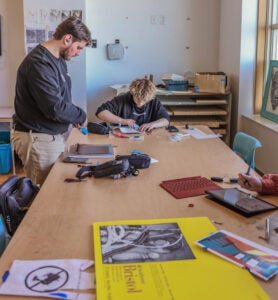 Graduates from Marshall University Art and Design Printmaking program have continued their education in graduate programs throughout the continental US and have acquired careers teaching or in the Arts. Many students have made careers in the commercial printing industry and graphic design fields.
360 panorama