Painting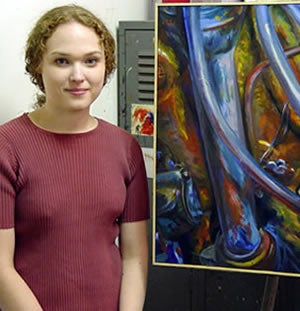 Painting in the School of Art & Design is firmly based on well-organized practice with inventive use of tradition. Clear guidelines cultivate reflection with intuition and discipline with craft. Additional procedures give the artist true freedom to express anything in color. The individual approach begins to vary as students gain skills and analytical experience. Advanced and graduate painters often discover completely new and unexpected imagery, and with different media. This is one of the strongest aspects of this painting program: the imagery advances independently and becomes unique to each artist.
The young artist must commit to the program. Intense practice and theory, along with art history brings knowledge. The result is formidable confidence, which then leads to intelligent exploration. The artist becomes obsessed with producing highly original artwork. The ultimate effect is lifetime dedication to making professional quality paintings.  Oil painting at this facility is completely non-toxic. There are no fumes in the oil painting studios.
The School of Art & Design emphasizes the connection between fundamental art classes and more advanced studies. These foundation classes have many practical and theoretical uses, not only at the undergraduate level but also throughout an artist's career. Learning about other cultures and the history of art is essential. Knowledge combines with practice to produce richer more sophisticated imagery.