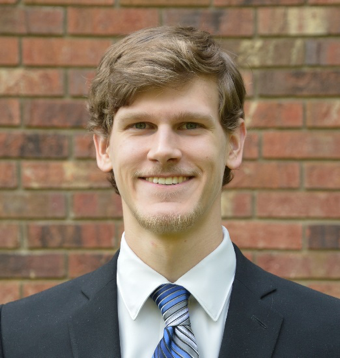 Christoph Hart
Why did you choose Biomedical Engineering as your major?
I have been interested in mathematics and physical sciences throughout my academic career and have a passion of crafts of a wide array of media (anything from woodworking and glass engraving to sewing and knitting). I knew that I wanted to incorporate my love for mathematics and understanding the world through science into my passion for creation, and I realized that engineering would be the best fit. Initially, I was unsure as to what type of engineering I wanted to pursue. After some research, I found that biomedical engineering incorporates aspects of many other engineering fields as well as physical sciences such as chemistry, biology, and physics. Therefore, studying this field would be as if I were studying all of these at once and give me the ability to potentially choose any of these as a career path.
In addition, I recognized that biomedical engineering has immense potential for growth as new discoveries are constantly being made. Not only would I already have a significant amount of knowledge of many other fields of study, I would also be on the forefront of science, making discoveries previously unknown to anyone else.
Most of all, I want to help and make a positive the as many people as I can. I recognized that as a biomedical engineer, if I could discover the mechanisms behind a disease or a new treatment method for a disease, I could potentially save thousands of lives. For this reason, I feel that biomedical engineering has the greatest direct impact on the lives of others over the other fields of engineering.
Why did you choose to attend Marshall University?
Aside from Marshall being relatively close to home and inexpensive, I noted that the classes were relatively small compared to many other universities (it is not uncommon to have around 6 students in a BME class at Marshall). Being introverted and coming from a small high school, I found this extremely attractive. I especially wanted to have a closer connection with professors, something that likely would not be possible if I had gone to a larger university. But most of all, the BME program at Marshall was just getting started. The thought of being a pioneer as one of the first to graduate from the new program is thrilling to me.
What has been your favorite Biomedical Engineering class as a student and why?
I would say that my favorite BME class was Tissue Engineering. The class was extremely small (2 students including me), so the entire class was very heavily discussion based between the students and the professor, massively improving my learning of the material. As such, the professor required us to think deeply about potential tissue engineering approaches to treat diseases and conditions and have us try to explain why certain methods are used and why they work – having us think about the material rather than spoon feeding or throwing the material at us and expecting us to learn. It actually felt like we were doing actual engineering work, thinking of potential solutions and solving real world health problems. In addition, it was incredibly satisfying to be able to use the knowledge we gained in classes regarding anatomy/physiology, chemistry, physics, and biology to solve problems. The labs were also very interesting as we developed our own procedures, thinking about the purpose of each step rather than being given a protocol to mindlessly follow as is seen in other classes (especially in many chemistry classes).
What do you plan to do after graduation?
After graduation, I plan to continue my education to obtain a master's degree and/or a PhD. Afterwards, I plan to work in research.