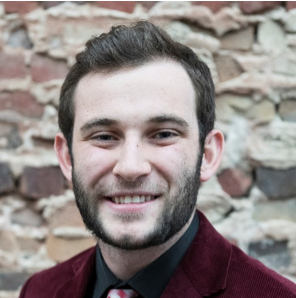 Ian McKnight
Why did you choose Biomedical Engineering as your major?
As long as I can remember, I've always been fascinated by science and mathematics, so I knew from a young age that I wanted to pursue a career in STEM. I also suffer from many food, environmental, and animal allergies, and it is thanks to the efforts of biomedical engineers and other medical professionals that I am able to engage properly with the world around me—after many years of various treatments. I chose biomedical engineering as my major because I want to help those with allergies like I was helped, in order to bring them a better quality of life.
Why did you choose to attend Marshall University?
I was incredibly fortunate to receive the Yeager Scholarship—Marshall University's most prestigious scholarship award—which made my decision to attend Marshall extremely easy. Simply put, I couldn't pass up the chance to cultivate myself into a more well-rounded individual with opportunities to study abroad in Madrid and Oxford, even as I focused on furthering my career in biomedical engineering. Thankfully, although our coursework is quite rigorous, the Biomedical Engineering program here is flexible enough for me to engage in other subjects I enjoy, such as creative writing and Spanish. Beyond that, Marshall is relatively close to home for me, but far enough away that I can relish my independence.
What has been your favorite Biomedical Engineering class as a student and why?
My favorite Biomedical Engineering class so far was probably one of the Bioengineering labs. I immensely enjoyed learning how to operate many pieces of biomedical laboratory equipment that I will frequently use throughout my career in the future; I also cherished the critical thinking skills and laboratory "know-how" required to complete our various research projects. Above all else, I felt that what we did in the class was entirely relevant and would play a monumental role in making me more competent for my future endeavors as a biomedical engineer.
What do you plan to do after graduation?
After graduation, I plan on committing a year or two of service to either the Peace Corps or Engineers Without Borders. After this, I intend on pursuing a master's degree (and ultimately a PhD) in biomedical engineering, with an emphasis on allergy research, in hopes of aiding those with allergies like me.