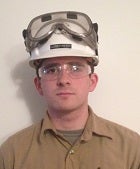 Corey L. Fetty
Vice President of ASSE MU Student Chapter
1. Why did you choose Safety Technology as your major?
The initial reason I chose safety technology as my major is the vast amount of opportunities available. It is a degree that has so many opportunities and does not confine me to the same every day tasks from company to company. When working in safety you don't have a daily routine, because the challenges and tasks are constantly changing, and I enjoy the varying challenges so I can continue developing and improving throughout my entire career.
2. When did you decide you wanted to pursue that major?
I didn't declare safety as my major when I first came to Marshall. Initially my major was in civil engineering. During my first semester at Marshall I had a safety professor for my intro to engineering class, and upon talking to him and learning the opportunities that were available in safety, I immediately knew that safety was the path I wanted to take.
3. What influenced your decision?
The influences that made my decision were the opportunities available, the opportunity to travel and see various places, and the varying challenges that test my competency on a daily basis.
4. Why did you choose to attend Marshall University?
My reason for attending Marshall University was that it is close to home and that they are improving and expanding the CECS with more programs, and a new building.
5. What has been your favorite Safety Technology class as a student and why?
My favorite safety class would have to be construction safety. This was a challenging and very fair class. I've always enjoyed construction growing up and while I currently work in construction safety, it was a class where I could immediately apply what I was learning, and I feel that the amount of knowledge I gained from that class was extremely valuable.
6. What do you plan to do after graduation?
After graduation I plan on continuing my work in the electrical construction industry while obtaining my CSP and other necessary certifications. Once I have obtained credentials and certifications I hope to move into a bigger corporate company, without any certain industry in mind