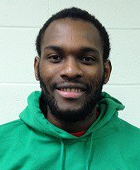 Emmanuel Reyme
1. Why did you choose Computer Science as your major?
My interest in computer science started with a broken Xbox. Knowing the problem was software related, I used the resources available and begin researching possible solutions. I soon realized the solution to this small problem was beyond my scope. In order to understand the solutions surrounding the problem I decided to learn a programming language called Quick Basic at my high school. Learning Quick Basic gave me the ability to have complete control of my applications through code.
2. When did you decide you wanted to pursue that major?
I soon realized computer science field was where I wanted to be in life after learning my first language. Since then I have been exploring science and seeing where it would take me.
3. What influenced your decision?
The endless opportunities in the computer science field is one of the many reasons which influenced my decision. Computing and mathematics is one of the top 10 fastest growing majors through 2020.
4. Why did you choose to attend Marshall University?
Excelling in academics through high school gave me an opportunity to receive an academic scholarships to attend in state university of my choice. After visiting Marshall's campus during the Outstanding Black Scholars weekend, I knew it was where I wanted to spend the next fours years studying.
5. What has been your favorite Computer Science class as a student and why?
This semester I'm really enjoying Database Engineering with Dr.Gudivada. In this class we cover topics such as Database Architecture, Relational Data Model, SQL, Conceptual Modeling and Database Design. Not only do we learn how to apply these ideas to the real world situations, we also learn the theory behind them. Learning theory will allow us to adapt to the ever changing Information Technology field.
We are currently working on a data intensive project as we touch up on different topics and concepts throughout the course. Although reading text is important to learning, doing and applying concepts is more fulfilling for me. Whether a database is the visible or not, it serves as the backbone in most organizations around the world.
6. What do you plan to do after graduation?
After graduation I hope to land an entry level position as a programmer for some organization. As I gain experience in the workforce I may eventually pursue a master degree in Information Systems.