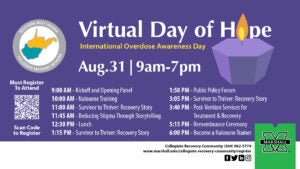 Thank you to everyone that made Virtual Day of Hope Possible
International Overdose Awareness Day
Marshall University Collegiate Recovery Community is partnering with Southern West Virginia Collegiate Recovery Network and many others to bring you a full day of events for International Overdose Awareness Day , August 31st from 9:00 am – 7:00 pm.
From 1999 to 2017, more than 702,000 people have died from a drug overdose according to the Centers for Disease Control . Each year we honor their lives and memories across the world. This year the CRC plans to honor their memory with Virtual Day of Hope.
Panelists and Speakers
Dr. Lindsay Acree with the University of Charleston
Dr. Susan Bissett with the West Virginia Drug Intervention Institute
Cece and Bobby Brown of Ryan's Hope
Elizabeth Coffey, with DHHR's Bureau for Behavioral Health (BBH) and State Opioid Response (SOR)
Corey Dean with the Charleston Quick Response Team (QRT)
Joe Deegan with WVAADC
Dr. Jerome Gilbert, president of Marshall Univeristy
Bob Hansen with DHHR's Office of Drug Control Policy
Denise Hanson with GRASP and Walk Across America
Kim Holmes with Concord University and Southern Highlands Community Mental Health Center
Mike Holmes with Bluefield State College and Southern Highlands
Sue Howland with Prestera
Angie Hypes with Seneca Health Services Inc.
Dr. Kristen Lillvis with Movable: Narratives of Recovery and Place
Sara Payne Scarbro, associate V.P. for External Engagement at Marshall University Research Corporation (MURC)
Dana Petroff with LEAD and Prestera
Connie Priddy with the Huntington QRT
Delegate Mike Pushkin
Delegate Matt Rohrbach
Paula Settle with Recovery Point
Joe Solomon with SOAR in Charleston
Dr. Jamie Styons with Southern Highlands
Rachel Thaxton with DHHR's Office of Drug Control Policy (ODCP)
Rebecca Tomblin a  student at Marshall