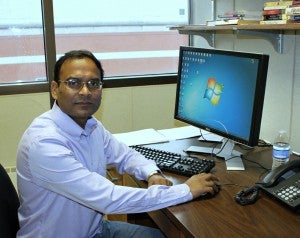 Educational Background
PhD English and American Culture, University of Michigan Ann Arbor, 2012
MA American Studies, Michigan State University, 2004
MA English, Tribhuvan University Kathmandu, 1997
BA History and English, Patan Multiple Campus Nepal, 1995
Interests and Specializations
Post-colonial literatures; American literature, cultural studies, literary theory
About
Dr. Damai initially came to the United States as a Fulbright Scholar from Nepal, where he was introduced to American literature and history by American Peace Corps Volunteers and Fulbright visiting professors from the U.S. His academic interests have been shaped by this transnational movement of people, disciplines, ideas and ideologies. He studies and teaches post-colonial literature (including multi-ethnic American literature) in order to investigate the issues of colonialism, empire and cosmopolitanism.
His current research projects include a book length study of hospitality in American multi-ethnic literature, and a collection of essays on South Asian literature.
At Marshall, he has taught courses and seminars including Good Novels; Postcolonial literature; Introduction to Critical Theory; Democracy and Justice in Postcolonial literature; Materials and Methods of Research; and Advanced Composition. Before joining Marshall, Dr. Damai taught British and American literature, literary theory and cultural studies at Michigan State University, East Lansing; Tribhuvan University, Kathmandu; and Pokhara University, Nepal.
Selected Publications
Messianic-City: Ruins, Refuge, and Hospitality in Derrida. Discourse 27.2-3 (2006): 68-94.
Interrupting Ethnographic Spectacles in Eric Vally's Himalaya. Postcolonial Text, 3.4 (2007): 1-17.
Babelian Cosmopolitanism: Tuning in to Sublime Frequencies. CR: New Centennial Review 7.1 (2007): 107-138.
Spectrogenetic Translation in Arundhati Roy's The God of Small Things and Elsewhere in South Asia and its Others: Reading the 'Exotic.' New Castle: Cambridge Scholars Publishing, 2009. 79-102.
Terror, Hospitality and the Gift of Death in Toni Morrison's Beloved. Sanglap: Journal of Literary and Critical Inquiry 1.1 (2014): 1-8.