Humans of the English Department: David Hannan

---
David Hannan is a Junior from St. Albans, West Virginia.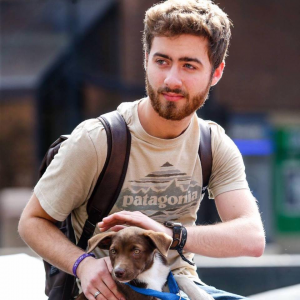 After being named a Yeager Scholar, David chose our program. A Creative Writing major, David hopes to grow in his ability to use words to describe the beauty and truth that he sees in the world.
He loves the English Department's catalogue but would say his very favorite courses have been Modernism in American Lit, Dr. Rachael Peckham's Twisted Non-Fiction seminar and Dr Ellison's Honors Seminar, Sermon: Text & Performance. This last course was especially meaningful to David because it gave him the opportunity to bring together his passion for Christianity, and his experiences as an English major.
David spends most of his free time leading Bible studies and playing piano and singing with the worship band at Marshall's Baptist Campus Ministries. If you ever stop by the Campus Christian Center, you can probably find him there.
One of David's favorite experiences was reading and doing homework in the ancient Bodleian Libraries while studying abroad at Exeter College, University of Oxford, this past summer. He also really enjoyed being able to intern with the A.E. Stringer Visiting Writers Series this semester under Dr. Sarah Chavez.
In the future, he would love to be bi-vocational as both a teaching pastor and professor. Consequently, he will likely pursue either a Masters or PhD in English or Theology (or maybe both!).
Thanks for choosing us, David!