Humans of the English Department: Jana Tigchelaar

---
Wednesday, 7 December 2016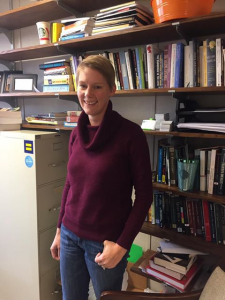 Dr. Jana Tigchelaar grew up in the small, Dutch-descended town of Pella, Iowa before starting her education at Trinity College in Chicago. It was there she changed her major 3 or 4 times while developing a passion for both visual arts and literature.
After she graduated she worked as a magazine editor for five years, and it was during this time she realized that her love of language and literature was pushing her toward teaching.
Jana received her masters in English from Ohio University, where the size difference was a bit of a culture shock.
She went on to finish her PhD at the University of Kansas, where she met a few of our then-future faculty members.
In her spare time, Dr. Tig likes to continue working with visual arts, including small scale sketching, photography and painting, as well as spending time with her kids, reading for pleasure and gardening.
We're lucky to have her.