Humans of the English Department: Lydia Cyrus

---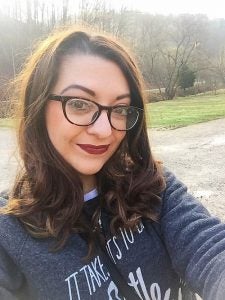 Lydia Cyrus, from Wayne county West Virginia, is a creative non-fiction writer and first generation college student. Her father is an iron worker (who sometimes works in the steel mill across the street from campus), and her parents raise chickens and turkeys in what Lydia affectionately calls "a holler." She chose us after taking English 101 and 201 while still enrolled high school; her professor, Paul Martin, told her she would be a great fit in our department.
When asked why the English Department means so much to her, she replied: "English, for me, has always meant empathy, and I think literature and writing helps us to understand the world around us and how to care for others and ourselves. I've always been a fan of sharing books and words with others in hopes of sharing something bigger!"
This year, Lydia is serving as the president of Sigma Tau Delta's Beta Iota chapter here. Sigma Tau Delta is an international English honors society, open to all students in English studies, with the goal of furthering learning and literacy. Lydia, along with current Sigma Tau Delta faculty advisor Professor Joel Peckham, is working to make the Beta Iota chapter focus even more on service to others. They will be involved with the Marshall community for events and with colleges throughout West Virginia to raise awareness about sexual assault and prevention.
The Beta Iota chapter will also be attending this year's International English Convention in Louisville, Kentucky. Everyone in the Marshall chapter who submitted work—either individual presentations or panels—was accepted into the conference. Lydia will be presenting some of her own work, as well as participating with her friends on a round table discussion of Disney princesses and critical theory.
Lydia says, "I love the sense of community in the department. As a first-generation college student, I've had to learn to do everything on my own, but I've always had excellent professors behind me the whole way. I know that if I ever have a worry or a question there are people to go to who care for me and my fellow students that will do whatever they can for me. I feel very lucky to have a whole department of people who lift me up so that I can do the same for others."