Humans of the English Department: Rob Engle

---
Wednesday, 21 September 2016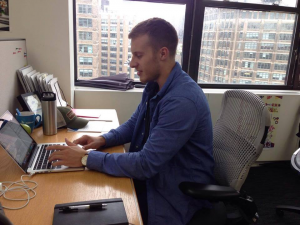 Rob Engle, class of 2016:
"After graduation, I moved to New York to work at Edelman, the world's largest public relations firm. My job title is 'Junior Editor,' but what I do is much more than that. I work with amazing former reporters from FastCompany, The Huffington Post, People and The Wall Street Journal to combine audience research, strategic planning and storytelling in developing campaigns and content with earned media potential. Sound a little abstract? That's because it is. But that's what makes every day at Edelman exciting as we navigate the fluid media landscape.
"To give you an idea, my team had enormous success with REI's #OptOutside campaign last Black Friday, which won the 2016 Grand Prix Titanium Lion at the Cannes Festival of Creativity. The campaign tapped into a simple human insight—that Americans are actually exhausted by consumerism—and capitalized on it by helping craft the narrative around REI closing all stores and encouraging people spend time outside with family and friends. Though I didn't personally work on that campaign, I've had the opportunity to work with consumer and health brands such as Trojan, Dos Equis, Unilever, AstraZeneca and Shire.
"I studied creative writing and broadcast journalism at Marshall. Having no background in PR, I thought it was a longshot when I initially applied to be an intern at Edelman. Lo and behold, I was called back for an interview, then hired. That's a testament to the strength of liberal arts degrees, and English degrees specifically—companies are no longer looking for people with just technical skills, but people who think critically, write creatively and clearly explain and defend their ideas. Even more importantly—people who can understand and empathize with others, which is key for public relations. Reading literature is a great place to start."