Dear Prospective Graduate Assistant: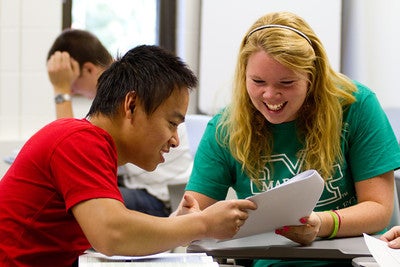 Thank you for your interest in applying for a graduate assistantship with the Marshall University H.E.L.P. Program. The H.E.L.P. Program serves Marshall University students, as well as community and professional clients, who have a diagnosed Specific Learning Disability and/or Attention Deficit Hyperactivity Disorder. The primary responsibility of our graduate assistants is to provide one-on-one academic tutoring to Marshall University students enrolled in the H.E.L.P. Program, including arranging and providing testing accommodations. Because our students require a more focused support due to their learning difficulties, we must carefully evaluate potential employees and graduate assistants to ensure we are providing quality service to our clients.
We hire tutors based on three major factors:
1. A command of a particular subject area – Depending on the requests of our students, we often seek to hire individuals with specific backgrounds in particular content areas. In addition, we seek to hire individuals who can tutor a range of courses.
2. Communication skills – Because our students struggle with learning more than a neuro-typical student, superb communication skills are an absolute requirement. Qualified applicants must possess both excellent receptive and expressive English language skills
3. Professionalism – As with any position, graduate assistants in our program work as part of a business and provide services to paying clients. Tutors must be able to make and keep standing appointments, arrive on time, be prepared, and stay organized
In order to be considered for a position with the H.E.L.P. Program, you must complete the following three steps:
Go to  Marshall's Human Resources.
Once there, choose the Employment drop down menu. Choose Graduate Assistant Employment. This lists all available graduate assistant positions.
Find and choose the H.E.L.P. Program listing, and complete your application.
Once you have submitted all of the forms, your application will be placed on file and you will be called for an interview should your background and qualifications match our needs. You will not be updated on the status of your application.
Best regards,
Renna Moore, M.A.
Coordinator of Tutor Development and Registration