Graduating from Marshall at 19
How one member of the Herd earned her degree well ahead of the game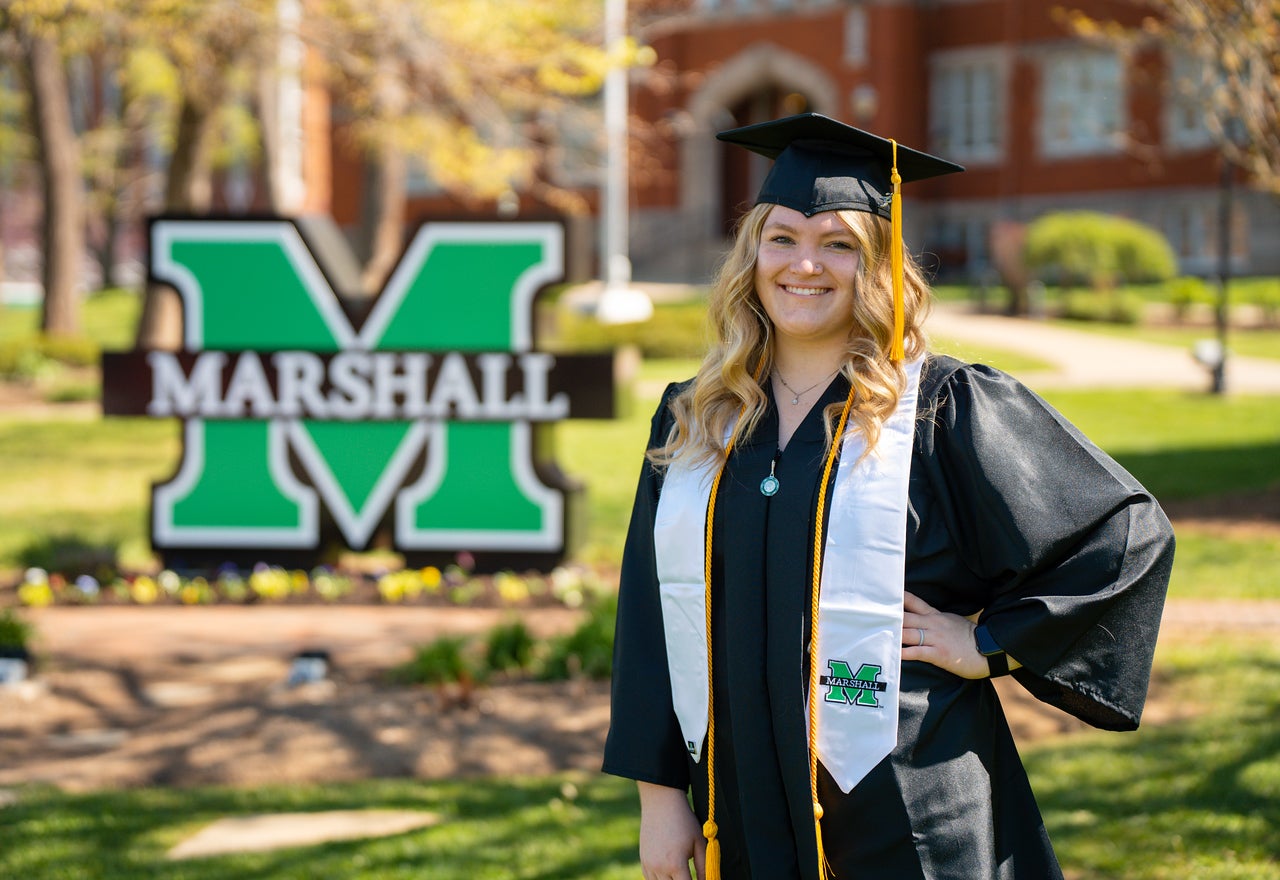 Taya Horob, a marketing major, is a member of Marshall University's Class of 2023, graduating at 19 years old.
Taya Horob will be putting on her cap and gown like thousands of other Marshall University seniors on April 29. She'll walk across the stage, accept her diploma and shake President Brad D. Smith's hand as part of the Class of 2023.
But there's something unique about the achievement for this ambitious marketing major: She's just 19 years old.
"A lot of people are shocked when they find out how old I am. They're like, 'Can I see your ID?'" she said with a laugh. "They're like, 'There's no way.'"
Oh, there's a way. And Taya found it. She started at Marshall in 2021 with dozens of credits already under her belt from dual credit courses earned from Williston High and Williston State College in her hometown in North Dakota. Here at Marshall, she's piled on 18-21 credit hours since, earning a marketing degree from the Lewis College of Business in just two years on campus. Up next: Working toward her Master of Business Administration at Marshall.
At this rate, she'll be earning her master's degree by the time most of the students from her high school graduating class earn their bachelor's degree.  It's a rare achievement, but pushing herself and rising to new challenges is standard operating procedure for Taya, who started to read and write in preschool and lobbied to start kindergarten early.
"From a very young age, Taya was very attentive. She watched with curiosity and quickly realized that she, too, could learn," her mom, Tracy Horob said. "At 4 years old, Taya was very eager to start kindergarten. She wanted to be able to go to school and learn everything her older peers were learning.
"I like to do things people think I can't do. That's what really drives me."
- Taya Horob
"We were hesitant, but Taya didn't budge. She knew what she wanted."
Taya's preschool teacher took the child's side and was adamant that Taya was ready for kindergarten. So, at 4 years old, Taya began her journey to academic success.
"Her schoolwork has always been her priority, giving herself very little room for error and always setting high expectations for herself," said her dad, Keith Horob. "She has always been willing and eager to soak in everything she could learn."
When she decided to throw herself into something, there was no stopping her. She took a special interest in learning German while still in elementary school, and even took private lessons to master the language. She was a percussionist in the band, and a competitive swimmer and volleyball player. Also, drag racing has been a family affair for the Horobs. Taya —— who has and older brother, Kyler, and younger sister, Alyssa — started as a junior dragster.
"My dad and I got a beat-up car a few years ago," she said. "He mostly fixed it, but I helped some. Now I drive it during the races!"
And she never slowed down academically. During high school, she had started taking dual credit courses, thinking that she might go into criminal justice, but then she got her first job at a retail shop, Genesis.
"I was promoted to a senior keyholder by the time I was 16, and I worked there all the way up until I moved here," Taya said. "My boss — he was the one who kind of changed my mind on what I wanted to be.  I knew I wanted to be a business major after that."
First, she had to ask the school board to agree to let her graduate in December, a semester early. She was permitted to do so, and so she spent the second semester of what would have been her senior year taking all college classes.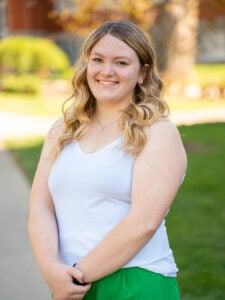 "I graduated from high school four months after my 17th birthday," Taya said. "I was technically the class of 2021, and I had my associate degree by the time I walked in May with my class."
Then it was a matter of where to finish her degree.
"Growing up, I came to West Virginia twice before I moved here, once to visit my grandpa and once for my aunt's wedding," she said. "And after I came here, I decided that West Virginia was like North Dakota but with mountains and trees."
Her West Virginia family members live in the Buckhannon area, but her aunt, Brianna (Christianson) Kinder, had gone to Marshall.
"She recommended that I tour here. After that, I decided that this is where I wanted to go," Taya said. "Marshall was not overwhelming. There were people walking around, everybody was friendly. Everything was all in one spot. I wouldn't have to drive around to get to different classes – I could walk everywhere. I just really liked that. It was larger than what I was used to, but still tight-knit and homey."
She had also researched the business programs and was happy to see that she would be getting a first-rate business education.
"I started as a finance major and took one finance class and decided it wasn't for me," Taya said. "Then I changed to marketing. It was actually one of the professors here that influenced that change to marketing — Uday Tate. He was the one who convinced me to get my MBA, too. He's been the strongest influence, as far as me loving the Marshall business program."
These last classes, including her capstone, have been the toughest, Taya said, but she's enjoyed the program and pushing herself.
"I like to do things people think I can't do. That's what really drives me," she said. "I've always watched my credits super closely because I always strive to be done at the earliest time possible. I don't think I really set out with a goal of being done by the time I was 19, but once I got closer, it was one of my strong goals.
"You have to strive for your own goals and not think about what anybody else will think. I think everybody knows what they can handle and what they can't."
- Taya Horob
"I definitely owe my parents the biggest thank you," she said. "And my bother — he got me through a lot and pushed me, mentally. Whenever I was stressed out, he knew how to make me laugh and basically ease me up a little bit so I'd be able to complete whatever I needed to do. I also want to thank my boss from Genesis, Lenny, and Uday Tate. I never in a million years thought I'd be getting my graduate degree. I wanted to be done with school."
If she has any advice for other students, it's to listen to your inner voice, because nobody knows what you can handle better than you.
"I think the best advice is to stay self motivated. You can't base it on what other people do," she said. "You have to strive for your own goals and not think about what anybody else will think.
"I think everybody knows what they can handle and what they can't."
Her parents are beyond proud.
"Taya is very motivated and compelled to succeed at everything she does," Tracy Horob said. "Whether it's her schoolwork, exceeding at her job duties, drag racing or even her love for interior design, she focuses on the task at hand and doesn't stop short of doing her very best."
Taya is precise, orderly and a planner who never goes unprepared and isn't afraid to speak up for herself, her parents said.
"Taya got to where she is today because of her determination and working hard to accomplish the goals she set for herself," Keith Horob said. "She has never shied away from advocating for herself, starting with her persistence with wanting to start kindergarten at 4 years old, and again, with convincing us and high school administration that she could and would graduate high school early."
She's also stayed focused on the financial piece of college, Tracy Horob said.
"Taya made an educational plan for herself and executed that plan to the fullest. She never expected things to be easy, but she was fully prepared to conquer the challenge."
- Tracy Horob
"She maintained employment throughout high school, focused on saving as much money as she could in hopes of graduating college debt-free," she said. "Taya is on track to meet her goal and will be graduating from college debt-free.
"We are extremely proud of Taya. Taya made an educational plan for herself and executed that plan to the fullest. She never expected things to be easy, but she was fully prepared to conquer the challenge. We have never doubted Taya. Although we were hesitant at times to allow her to move ahead so quickly, there has never been a doubt that she would not fully accomplish what she set out to do. Taya has worked so hard and has stayed humble and true to herself, believing she could do it, and she did."