Long-time Marshall Director of Theatre Facilities stages his last commencement
The "Martha Stewart" of Marshall
| By Leah Payne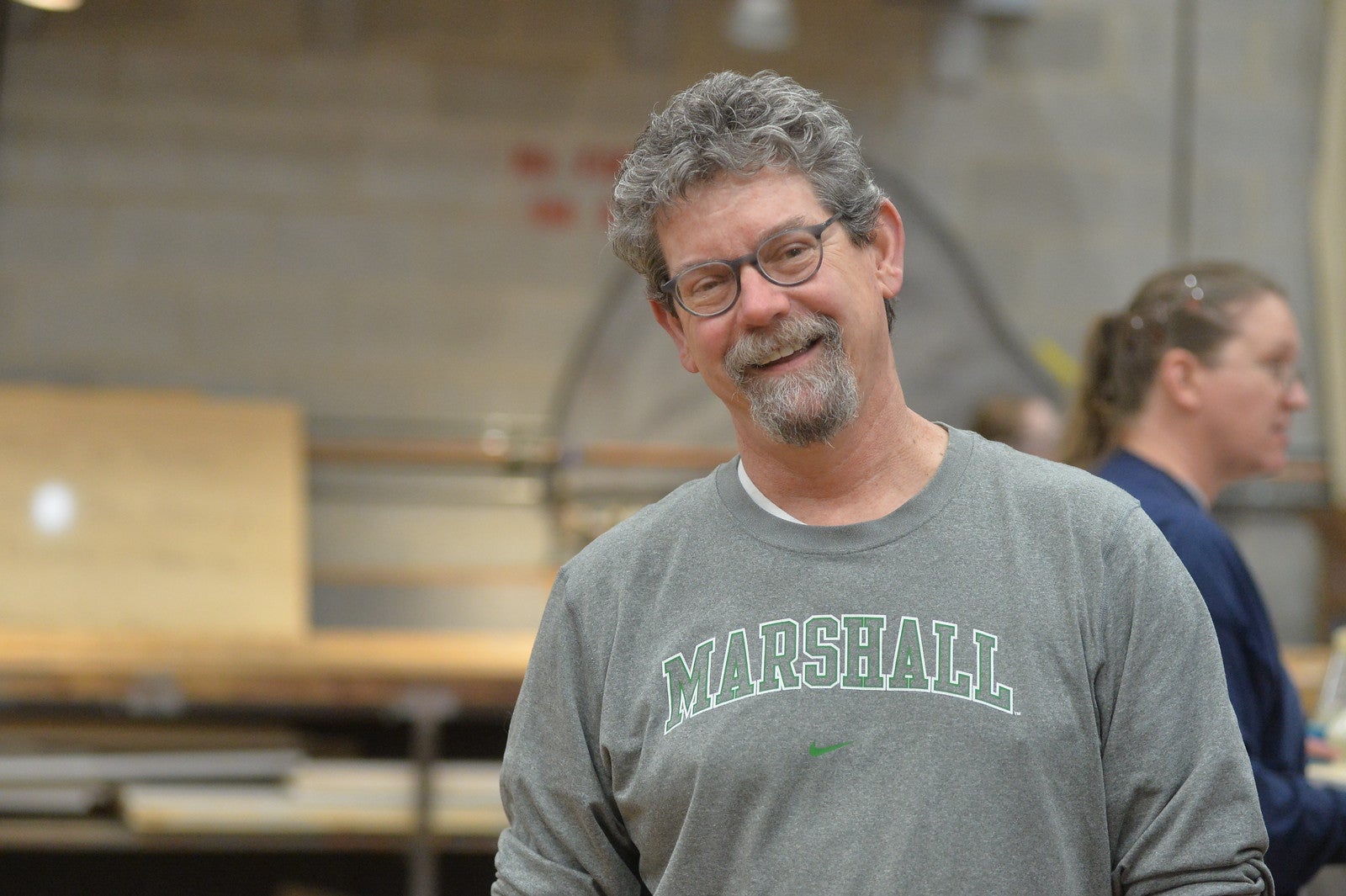 Jamez Morris-Smith, director of Marshall University theatre facilities for nearly four decades
If you've ever attended a Marshall University event, be it a dinner, commencement, a theater production or the annual fountain ceremony, chances are you've seen the design work of one of Marshall's most talented creators.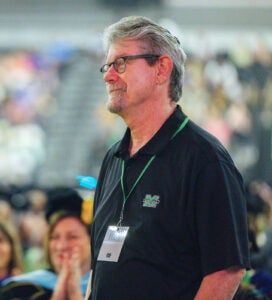 Jamez Morris-Smith, director of theatre facilities at the university for nearly four decades and who has put his magical touch on hundreds of events, has decided to retire this summer. His professionalism and love of all things design will long be remembered at Marshall.
Earlier in April, Morris-Smith's Facebook profile recorded the "strike" of his last official theatre set, "25th Annual Putnam County Spelling Bee," with photos and accolades from friends and colleagues who admired his design and technical skills, as well as his easy-going nature. Words like fantastic, magic, talent, inspiration and awesome were used when describing the man and his work. The dismantling of a set is always bittersweet in the life of a theatre family, but this time, for the Marshall community, it was the end of an era.
Morris-Smith is a West Virginia native and a 1980 Marshall University graduate, one of the first to complete the university's Bachelor of Fine Arts in theatre production and design. Known to many on campus as the "Martha Stewart of Marshall," he has a flair for the fantastic and an eye for the unusual. Equally important, he has served as the keeper of notes and memories for nearly every university-wide occasion.
"I might add Old Main is where my heart is. I can walk the halls and still feel a connection from 30 years ago even though the theatre is no longer there."
- Jamez Morris-Smith
"I was somewhat groomed to do this job by my mentor and professor Bruce Greenwood," Morris-Smith remembers. "He gave me the responsibility early on managing outside rental events, but everything changed when we moved into the Joan C. Edwards Performing Arts Center in the summer of 1992. Suddenly I was staging dinners, art shows, galas, drag shows, receptions and ordering linens, flowers and tents."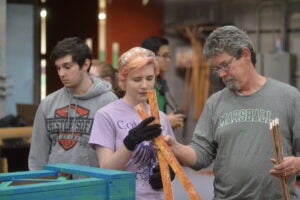 Continuing with his thoughts, he reminisces about the old days in the university's original theatre, located in the administration building known as Old Main.
"It was very different from the events staged in the Old Main theatre," he said. "I might add Old Main is where my heart is. I can walk the halls and still feel a connection from 30 years ago even though the theatre is no longer there."
Some of his favorite events included the grand opening of the Joan C. Edwards Performing Arts Center, the first show in the playhouse and the ribbon-cutting at the Bill Noe Flight School at Yeager International Airport. Similarly, the saddest event Morris-Smith coordinated was a funeral service for Dr. Paul Ambrose, a Marshall University graduate who perished in the 9/11 attacks. And it's always Jamez who carries the flowers from the campus fountain ceremony to Springhill Cemetery where some of those lost in the 1970 tragedy are buried.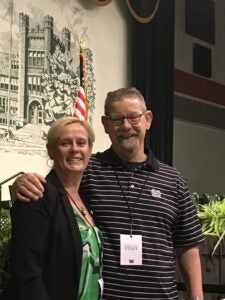 How do you capture the success of a theatre designer in a word or two? Morris-Smith says it's easy.
"Details, details, details, communication, communication, communication," he says, while also sharing his gratefulness for longtime team members, Kevin Bannon, Deb Carder-Deem, Jeremy Wright, Emily O'Neal, Gavin Spievak, Jimi Lawson and Devon Wright.
On event days, Morris-Smith can log upwards of 20,000 steps, but never seems to stumble. His zest for the production, the show, the concert or commencement is always the top priority, and he is relentless in his pursuit of making things right. Show days are incredibly long, sometimes upwards of 14 hours, and often filled with tension, stress and last-minute snafus. But those pesky issues are simply seen as challenges for Morris-Smith who can troubleshoot on the fly and "MacGyver" as needed.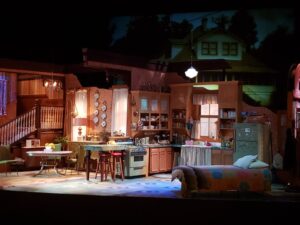 As Jamez Morris-Smith prepared to "strike" his final commencement set, he's also preparing for the next stage of life. The artist plans on spending more time with his husband, Sam, walking and taking fitness classes and in true Jamez fashion, "continuing to be a Son of Marshall and be of service where needed."
Bravo, Jamez. Bravo.