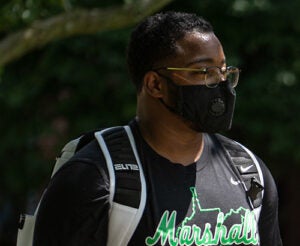 Updated 8/27/20 to clarify testing results.
Laptops and cell phones are the typical back-to-school items for Marshall University students, but this fall, during COVID-19, masks and hand sanitizers are necessary, too.
Marshall officially began classes today with three instructional delivery options for students—face-to-face, virtual and online. Approximately 1,500 students are living in residence halls on the Huntington campus, with an estimated 6,200 students taking at least one face-to-face class on the Huntington, South Charleston or health sciences campuses. Classes are also underway at the Mid-Ohio Valley Center and Teays Valley Center.
"Today begins what I hope will be a productive and positive fall term for our students, faculty and staff," said Marshall University President Jerome A. Gilbert. "We have worked on plans for months to ensure the highest possible level of safety for our Marshall community during COVID-19. I cannot emphasize enough how proud I am of the work our team has accomplished to prepare for this semester and how our students seem to be stepping up to the plate to cooperate. I walked around campus several times today, and was glad to see our students wearing their masks and practicing social distancing. And, while it is premature to say we will be successful staying face-to-face in the long run, I can say that today has certainly exceeded my expectations and gives me hope for the fall semester, as well as for a football season."
Gilbert also thanked the university's Board of Governors for its support of the Return-To-Campus plan, as well as its guidance for the fall term. Additionally, he specifically gave kudos to Marshall's School of Nursing and the Cabell Huntington Health Department, among others, for their daily assistance in COVID-19 testing of on-campus students and employees.
"Our nursing students and the health department have been valuable contributors to our COVID-19 health and safety efforts here at Marshall," he said. "As of this morning, we have tested more than 3,000 students and employees since Aug. 12, and we couldn't have done it without these folks. It's been a tremendous effort shared by many partners across the institution."
According to Tracy Smith, director of environmental health and safety, not all test results are back yet but so far, less than 1% of the 3,200 students and employees who have completed the required fall COVID-19 testing process have tested positive.
Smith added, "We are currently at a positivity rate of just .2%*, which is just outstanding. We know we can expect some more positives as the test results continue to come in, but we are encouraged so far. Our students are doing a great job being mindful of the guidelines and protocols, and if we can continue to watch out for one another as we have over the past few days, I think we can be optimistic about having as normal a semester as possible."
Marshall's COVID-19 website has more information about the university's response to the pandemic.
*Does not include student-athletes being tested through separate protocols. For complete data, visit www.marshall.edu/coronavirus.