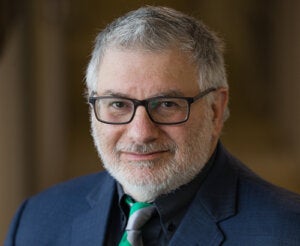 A physician at the Marshall University Joan C. Edwards School of Medicine, who prefers to remain anonymous, has established an endowed scholarship in honor of its dean, Joseph I. Shapiro, M.D., in "the spirit of gratitude for his excellent leadership, vision, enduring commitment to the Joan C. Edwards School of Medicine and Marshall Health," said the donor.
Shapiro, a board-certified nephrologist with more than 30 years of clinical, teaching and research experience, was appointed dean of the Joan C. Edwards School of Medicine in 2012. Since that time, Shapiro has grown the School of Medicine in every facet of its mission—enhanced medical education and training, improved access to primary and specialty care, and increased research dollars and scholarly activity.
A researcher in his own right, Shapiro has authored or co-authored more than 200 original research articles in leading industry journals and leads a team of researchers in the cell signaling function of the Na/K-ATPase oxidant amplification loop and its impact on cardiomyopathy and kidney disease as well as aging. In April 2019, Dr. Shapiro was awarded Mastership in the American College of Physicians (ACP), an elite honor received only by 1% of all ACP members across the globe. In 2020, he was an inaugural inductee into WV Executive's Health Care Hall of Fame.
A native of Newark, New Jersey, Shapiro received his medical degree from the University of Medicine and Dentistry of New Jersey, completed his internal medicine residency at Georgetown University and trained as a fellow in renal diseases at the University of Colorado. Previously, he served as associate dean for business development and chair of the department of medicine at the University of Toledo College of Medicine in Toledo, Ohio. He and his wife, Mary, have two grown daughters.
The Joseph I. Shapiro, M.D., Scholarship will be awarded to entering first-year medical students with financial need. The scholarship is renewable for three additional years, pending normal academic progress.
For more information or to make a gift to the Marshall University Joan C. Edwards School of Medicine, please contact Linda Holmes, director of development and alumni affairs, by phone at 304-691-1711 or by e-mail at holmes@marshall.edu, or visit jcesom.marshall.edu/alumni.