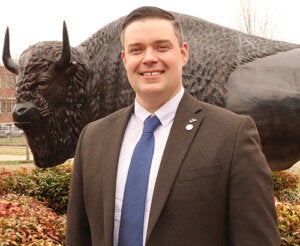 Dr. Zach Garrett, program director of the Marshall University athletic training program, was given the 2021 Emerging Leader Award by the National Athletic Trainers' Association (NATA) State Association Advisory Committee.
The Emerging Leader Award recognizes a person whose innovative ideas, service to the athletic training profession and professional integrity raise the visibility of the profession and inspire others to do the same. This award is given to a state leader who demonstrates excellence in their service to their state athletic training association within the first ten years of their career.
Garrett has served as president, president-elect and secretary in the West Virginia Athletic Trainers' Association (WVATA), during which time the association successfully advocated for legislation passed to protect the public health and improve athlete and patient safety in West Virginia.
In 2019, the WVATA was successful in passing licensure for athletic trainers, which developed a scope of practice for athletic trainers and enhances public protection, according to Garrett. In 2020, the WVATA was successful in advocating for the Alex Miller Law, which requires automated external defibrillators (AEDs) at all secondary school sporting events.
Dr. Scott Lawrance is chair of the NATA State Association Advisory Committee.
"This award clearly outlines the great work Garrett is doing in West Virginia and our entire committee was impressed with what he has been able to accomplish," Lawrance said.
Garrett will be presented with the award at the NATA State Association Advisory Committee's State Leadership Forum this summer.
For more information about the Marshall University Athletic Training program, please visit www.marshall.edu/athletic-training.