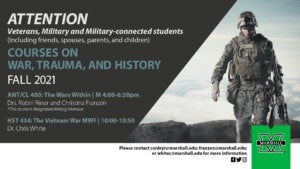 Marshall University is enrolling students in some new Fall 2021 courses  that aim to help veterans and others cope with traumatic experiences, and explore the history of war. The courses are geared toward veterans and military-connected students, as well as anyone who is close to veterans, including family and friends.
These courses are part of a larger program, for which faculty members in Marshall University's College of Liberal Arts and School of Social Work received three grants. The program, which includes training, coursework and outreach, is designed to help connect veteran students at Marshall University with veterans from throughout the state of West Virginia through a series of public discussion groups in which participants will read and discuss classic texts about war. The program directors will be seeking student veterans to serve as discussion leaders in the public discussion groups. More information about the application process can be found at www.marshall.edu/warswithin.
One of the fall courses to be offered, "The Wars Within, The Wars Without: Lucan's Civil War in Modern Veterans' Eyes," draws on the power of the written word to serve as a vehicle of catharsis for people who have experienced trauma. Taught by Drs. Robin Riner and Christina Franzen, the course will study classics and delve into conflicts in three different parts of the world across millennia, including the Roman civil war, the Vietnam War, and the War on Terror. The course aims to explore diverse war experiences across time and space. Franzen and Riner hope to convey that the humanities in general and classics in particular can serve as at least one tool for coping with traumatic experiences.
Another course, "The Vietnam War," with history professor Dr. Chris White, examines the causes and effects of America's most controversial war, paying close attention to the military and veteran experience from both sides.
"Through this program, we hope to give veterans some new and unique resources for helping to think through their military experiences," Riner said. "Using texts about ancient war, set in times and places very distant from veterans' own lives, can provide the distance needed to be able to process their experiences."
The program is supported by a grant from the West Virginia Humanities Council and a Classics Everywhere Initiative grant from the Society for Classical Studies. The project also received a Marshall University Hedrick Program for Teaching Innovation grant.
Anyone interested in participating can e-mail Franzen at franzen@marshall.edu, Riner at conleyr@marshall.edu or White at whitec@marshall.edu for more information.