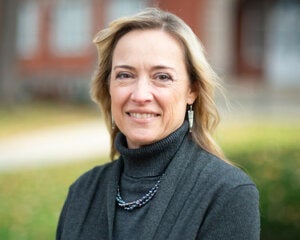 Susie Mullens, program coordinator for the West Virginia Collegiate Recovery Network (WV CRN), has been named the national Collegiate Recovery Advocate of the Year, an honor organized by the Association of Recovery in Higher Education. An employee of the Marshall University Research Corporation, Mullens manages the day-to-day operations of the WV CRN, a project of the Alliance for the Economic Development of Southern West Virginia. Since February 2020, the WV CRN has served more than 3,600 West Virginians with training, services and support throughout the COVID-19 pandemic..
Mullens has worked in the mental health and substance use disorder field for more than 29 years and worked in different fields throughout recovery. She's a licensed psychologist, licensed professional counselor, certified advanced alcohol and drug counselor, and a master addiction counselor and supervisor.
As the program coordinator of the WV Collegiate Recovery Network Mullens works to expand recovery efforts on seven campuses in southern West Virginia, including Marshall University. She was formerly the interim director of the West Virginia Office of Drug Control Policy (ODCP). While at ODCP she was responsible for generating $100,000 through grants for five collegiate recovery programs in West Virginia.
Sara Payne Scarbro is the operations chair of the alliance, which houses the WV Collegiate Recovery Network that Mullens oversees.
"Susie brings a wealth of knowledge, compassion and sincerity to her job every day," Scarbro said. "Our statewide network has created a great recovery support ecosystem for those in recovery or for those who know someone in active addiction, so students have the peer support they need to reach their higher education goals. It is so fitting that Susie receives this national award because she is a major reason this statewide program so successful."
"Susie Mullens is a powerful advocate for all things collegiate recovery," said Carolyn Canini, the director of behavioral health programs at the West Virginia Higher Education Policy Commission. "She is committed to elevating others' voices– always open to collaboration and to fostering students toward their leadership potential. She is the strongest force for collegiate recovery in the state of West Virginia, and has done much to educate and advocate for student wellness and recovery both in West Virginia and across the country."
"I can think of no one more deserving of this award than Susie Mullens," said Dr. Matthew Christiansen, director of West Virginia's Office of Drug Control Policy. "She is a tireless advocate for recovery and has helped countless West Virginians in their journey to long term recovery."
Mullens hosts a show on the WV Library Commission Network called "Solutions, Service and Serenity," which helps raise awareness for recovery programs across West Virginia. To learn more about the WV CRN visit: https://www.marshall.edu/crn/ or visit them on Facebook at @CRNWV.