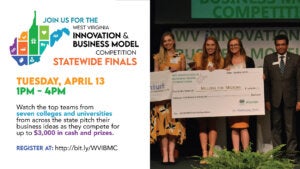 The Marshall University Lewis College of Business and Brad D. Smith Schools of Business and their Center for Entrepreneurship and Business Innovation (iCenter) hosted the third annual West Virginia Innovation and Business Model Competition (WVIBMC) finals earlier this week. The statewide competition is open to all students enrolled in a two- or four- year institution of higher education in West Virginia.
Winning first place was Morgania, a sustainable fashion business created by Morgan Widmer of West Virginia University. Widmer will receive a prize package of $3,000. Her faculty mentors were Dr. Carrie White and Anne Jones. Widmer is a senior fashion design major from Buckhannon, West Virginia.
"With the money I won from WVIBMC, I'm going to get the equipment I need to make prototypes and start producing inventory for my brand to sell on my website," Widmer said. "I'm incredibly excited to move along this journey in making fun, playful designs that are sustainable and help make the fashion industry a good place for people and for the planet."
The second-place winner was Tots Anytime, an anytime aftercare business, created by Marshall University students Tommie McCartney and Isabella Schrader. McCartney, a junior management major from South Point, Ohio, and Schrader, a freshman biomedical engineering major from Huntington, will receive a prize package of $2,000. Their faculty advisor was Dr. Ben Eng.
"I believe the WVIBMC competition has truly helped our business, not just from a financial standpoint, but also from the input given by the judges," McCartney said. "With their knowledge and experience, we have made multiple changes that have improved our company, and that advice is priceless."
Earning third-place was Issac Prather from Concord University, who will receive a prize package of $1,000. His business, Ez Lube, seeks to serve athletes with prosthetics, and his faculty advisor was Dr. Angela Addair. Prather is a junior resource tourism and management major from Summersville, West Virginia.
"The WVIBMC was an eye-opening experience in terms of interacting with the judges and competing against great competition," Prather said.
Honorable mentions and $500 were awarded to finalists Mary Griffith from Alderson Broaddus University and Justin Kemp and Ciara Radcliff from Fairmont State University.
As part of the competition, seven participating institutions hosted a campus qualifier, where their top team was selected to move on to the finals, and at the finals, a pre-recorded eight-minute pitch video was played and followed by 10 minutes of Q&A from the judges. Due to ongoing COVID-19 concerns, this year's competition was hosted virtually via Zoom. Dr. Bill Bissett, president and CEO of the Huntington Regional Chamber of Commerce, served as the master of ceremonies for the event.
The judges for the event were David Bland, founder, author, and CEO of Precoil Inc.; Scott Ewing of the Appalachian Investors Alliance; and Dr. Jackie Khorassani, entrepreneurship director and professor at Marietta College.
The competition is made possible by the generosity of the Robert E. Yancey, Sr. Entrepreneurship Endowment and Intuit. It was coordinated by Olen York, instructor of entrepreneurship and director of the iCenter; Jeremy Turner, Lewis College of Business executive in residence, and Tricia Ball, associate director of the iCenter and Brad D. Smith Business Incubator.
The focus of the competition is designing desirable, feasible, and viable business models that are attractive to investors. Students learn and apply a blend of entrepreneurial best practices like design thinking, business model canvas and lean startup to identify problems, create game-changing solutions and develop business models by testing their assumptions on real customers. The WVIBMC is passionate about giving students the mindset and tools they need to innovate high-impact businesses that will change their lives and the lives of those in the state and beyond.
"I believe our iCenter promotes a dream – a dream to think 'out of the box' and embrace risks; a dream to disrupt, innovate and challenge status quo; a dream to solve societal and business problems; a dream to seek rapid experimentation and pivot failure to success; a dream to bring different constituencies / stakeholders together; and a dream to turn adversity into economic prosperity," Dr. Avi Mukherjee, dean of the Lewis College of Business, said in his opening remarks. "WVIBMC is turning this dream into reality."
WVIBMC was part of Bridging Innovation, a week of virtual competitions across the state that are promoting and fostering entrepreneurship in West Virginia. The competitions range from supporting elementary to college students in their pursuit of becoming entrepreneurs and creating more opportunities in West Virginia.
For more information, contact Ball by phone at 304-696-5105 or by e-mail at ballt@marshall.edu.
———-
Photo: A promotional graphic for this year's West Virginia Innovation and Business Model Competition (WVIBMC) finals.