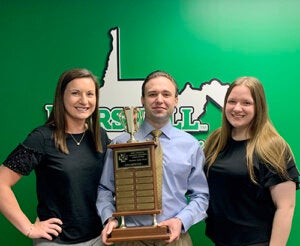 Students in Marshall University's athletic training program were recognized for their first-place win in the 2021 West Virginia Athletic Trainers' Association (WVATA) Quiz Bowl competition held April 16.
Three students from the Professional Master of Science in Athletic Training (PMSAT) program participated in the annual event and finished in first place over teams from West Virginia University, Concord University and West Virginia Wesleyan College.
Kimberly Hill, Gary Gilbert and Katelynn Smith were the members of Marshall's team. All three students are in their second year in the athletic training program and were selected based on their strong academic and clinical performance in the program.
Marshall's team will now go on to represent the state of West Virginia at the regional Quiz Bowl competition hosted by the Mid-Atlantic Athletic Trainers' Association on Friday, May 14th. The students will compete against teams from Maryland, North Carolina, South Carolina, Virginia, and the District of Columbia.
Dr. Zach Garrett, program director of athletic training, said he is proud of the students' hard work to achieve this honor, noting that this is the second time Marshall University has won the state quiz bowl in school history.
Marshall's athletic training program is in a 3+2 structure allowing students to complete a bachelor's and master's degree in five years, and is the only 5-year program in West Virginia.
To learn more about Marshall's athletic training program, visit www.marshall.edu/athletic-training. For more information about the West Virginia Athletic Training Association and future Quiz Bowl competitions, visit www.wvata.org.
——————
Photo: (From left) Kimberly Hill, Gary Gilbert, and Katelynn Smith were part of Marshall University's Quiz Bowl team, which brought home first place during the 2021 WVATA Quiz Bowl; Gilbert is pictured holding the Quiz Bowl trophy.