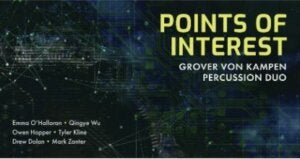 Dr. Mark Zanter, a professor of music in Marshall University's College of Arts and Media, is celebrating the release of Earth endures; Stars abide on Navona Records' release Fleeting Realms Volume II with a livestream concert on parent company PARMA Records' Live Stage concert series.
Earth endures; Stars abide for clarinet, violoncello and piano was selected from 600 entries for the CD compilation, which also features the work of Isak Roux, William Toutant, James Shrader, Fabio Antonelli and Marvin J. Carlton. It was recorded by the Ergon Ensemble of Athens, Greece, and will be performed during the ensemble's upcoming season, pending COVID-19 restrictions. The CD will be released Friday, May 14, and pre-release copies can be purchased on Amazon. Interested parties are urged to contact Zanter by e-mail at zanter@marshall.edu.
To kick off the release, the Grover Von Kampen duo will perform a livestream concert on PARMA Records' Live Stage series at 7:30 p.m. Wednesday, May 19. The concert, titled Points of Interest, will feature Zanter's work of the same name and new commissions from Owen Hopper, Emma O'Halloran, Quing Ye Wu, Tyler Kline and Drew Dolan.
"I am thrilled about the CD release and my recent collaboration with MU alumni Evan Grover and Kevin Von Kampen," Zanter said. "They are both amazingly talented, and dedicated to commissioning and promoting new music."
The livestream can be accessed at this link on May 19: https://www.parmarecordings.com/events/.