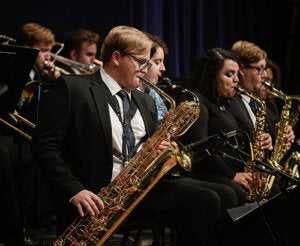 Marshall University's jazz studies program will host a Virtual Jazz Camp June 14-18 for music students age 13 through adults. The virtual sessions will be offered with sessions at 11 a.m. and 1 p.m. each day and will be livestreamed through the Marshall University Jazz Facebook page.
Jazz-MU-Tazz jazz camp is typically a six-day, five-night camp that is an immersive experience for high school musicians to learn about jazz improvisation and traditions of the jazz idiom. Due to the COVID-19 pandemic, and safety guidelines, the camp will again be offered as a Virtual Jazz Camp.
Topics to be covered include jazz improvisation, jazz theory, listening skills, and instrument/section master classes by members of the MU jazz faculty.
A registration fee of $75 can be paid by personal check or via credit card.  Once you register, instructions for payment and how to join the camp Facebook group will be sent to the e-mail address you provided.
"Whether Jazz-MU-Tazz meets in person or online, our goal is to help you learn jazz music," said Jazz Studies Director Dr. Martin Saunders. "Last year's virtual camp was a great success and connected over 165 students from 13 states and two overseas territories. See who you can connect with while learning jazz improvisation, listening skills, jazz theory and more!"
To register, visit this link.