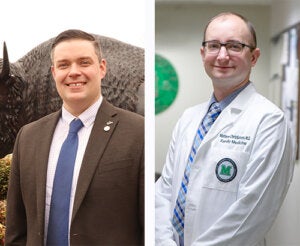 Zach Garrett, D.S.C. (left), of the Marshall University athletic training program and Matthew Christiansen, M.D., M.P.H., of the Marshall University Joan C. Edwards School of Medicine have been named to The State Journal's 2021 Generation Next, 40 Under 40.
The 40 Under 40 recognizes young West Virginians succeeding in business, education, government and various other professions. The Generation Next, 40 Under 40 is "the next wave of leaders guiding the state and its communities into the future," according to the publication.
Garrett, program director of the Marshall University athletic training program, currently serves as president and was previously president-elect and secretary of the West Virginia Athletic Trainers' Association (WVATA). During his time as an officer, the association has successfully advocated for legislation passed to help protect the public and improve athlete and patient safety in West Virginia.
"I was surprised when I found out I would be joining this year's class," Garrett said. "There are a ton of great individuals doing a lot of good for our state so to be recognized for the contributions I've made is truly an honor. I hope to continue make a positive change in West Virginia, grow our profession and improve student athlete access to certified athletic trainers."
The native of Clarksburg, West Virginia, is a graduate of Marshall with a bachelor's and two master's degrees from the university. He also holds a Doctor of Health Science degree from Nova Southeastern University. In the fall of 2018, Garrett was selected to participate in the inaugural class of the John Marshall Leadership Fellows program at Marshall.
Christiansen was named the director of the Office of Drug Control Policy for the West Virginia Department of Health and Human Resources (DHHR) in October 2020. He's board certified in both addiction medicine and family medicine and serves as associate professor in the Marshall University Joan C. Edwards School of Medicine, Department of Family and Community Health, Division of Addiction Sciences where he practices primary care and addiction medicine.
Prior to his appointment to the Office of Drug Control Policy, Christiansen was active in treatment of addiction and dependence across the lifespan. He's lectured across the region on addiction issues from a public health and primary care perspective.
Christiansen holds a Bachelor of Science from Denison University and a Master of Public Health and Doctor of Medicine, both from Marshall. Christiansen also completed his family residency at Marshall, where he served as a Paul Ambrose Health Policy Fellow.
"There is no greater honor than to care for others in need, and I am humbled by the recognition of our efforts," said Christiansen.  "I look forward to continuing this work of focusing on prevention of substance use disorder and building recovery capital in West Virginia."