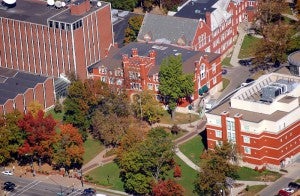 Marshall University Center of Excellence for Recovery, along with many partners through West Virginia, is set to host the next in a set of behavioral health trainings in the state, this one in Harrison County.
The collaboration brings the Center of Excellence for Recovery together with the West Virginia Department of Education, the WV Bureau of Behavioral Health, the WV Behavior/Mental Health Technical Assistance Center and the WV Recovery/Life Coach Academy. They're providing training to educators throughout the state on how to support the behavioral health needs they may encounter. Funding for the training program is provided by the Substance Abuse and Mental Health Services Administration's Project AWARE (Advancing Wellness and Resiliency in Education) Grant.
This collaborative partnership will be working with Local Education Agencies in Harrison, Clay, and Cabell Counties to provide guidance and technical assistance in providing a multi-tiered system of support for students and communities of the designated schools. These supports include establishing school- based mental health services with a designated licensed provider for each participating school, training in specific tools and evidence-based practices such as Expanded School Mental Health (ESMH), Positive Behavior Interventions and Supports (PBIS) and establishing relationships and workforce development.
The goals of these supports are to improve student success and mental health, positively impact school culture and strengthen sustainability of community connections and resources. Harrison County is launching their efforts by hosting a professional development conference for leadership teams from their participating AWARE schools.
Participants will meet on July 28-30 to learn about the growing need for social emotional education and making connections with students. Educators and mental health professionals will work together to review curriculum, interventions and prevention strategies to create customized Project AWARE plans for their schools.
"I am very excited about the work being done in the AWARE counties," said Amy Knicely, SEA Project AWARE Coordinator. "All of the participants are eager to become more informed and empowered to support the well-being of the students and their communities. The funds provided by the AWARE grant from SAMHSA will help them to do that, but the hard work and dedication of the staff is what will make the biggest impact."
For more information contact Amy Knicely at knicely7@marshall.edu.