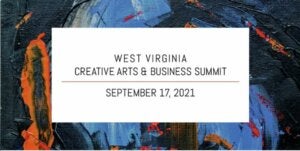 Marshall University is teaming up with the Tamarack Foundation for the Arts to host the West Virginia Creative Arts and Business Summit, a free, online event that goes on from 9 a.m. to 3 p.m. Friday, Sept. 17.
The purpose of the event is to help equip budding artists with the skills and resources they need to build a successful business and career in the arts in West Virginia. The summit will feature interactive workshops facilitated by experienced creative entrepreneurs, a panel discussion with this year's Emerging Artists Fellows, and opportunities to connect with artists from throughout the state. Topics include arts entrepreneurship basics, building a portfolio career and an artist's journey.
Marshall's School of Art and Design is hosting an in-person reception for the public at 4 p.m. Sept. 17 in the Visual Arts Center, at 927 3rd Ave. in Huntington, following the summit.
"The Tamarack Foundation for the Arts (TFA) is a major supporter of the arts and artists in West Virginia," said Jamie Platt, director of galleries in Marshall's School of Art and Design. "This support is never more important than when an artist is emerging from the nurture of the university to embark on professional life. This event is perfect for students in the School of Art and Design because it offers them a wealth of information that will help them navigate the practical but often mysterious parts of the transition from student to professional."
Marshall students and other artists are welcome to register for the summit here and find additional details on the Facebook Event Page.