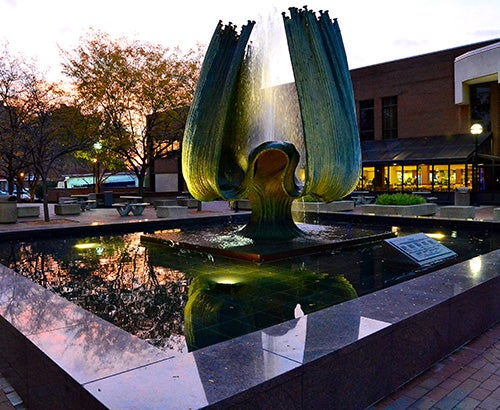 On a rainy night on Nov. 14, 1970, the Huntington community was forever changed. Southern Airways Flight 932 crashed into a hillside as it approached Tri-State Airport with 75 Thundering Herd teammates, coaches, staff, supporters and flight crew members on board. To this day, the accident remains the worst sports tragedy in American history.
Mark Miller's life has never been the same. At the time, he was a freshman on the team, who did not travel with the varsity players. At 2 p.m. on Sunday, Nov. 14, he will share how the crash affected his life then and now.
"As an 18-year-old, I struggled with the reality of what occurred and why did this have to happen," said Miller. "Initially, I experienced survivor's guilt, overwhelming sadness and feelings of inadequacy."
Miller was recruited by Red Dawson, and along with other freshman players, helped prepare the varsity squad each week at practice for their next opponent. Even for freshmen, the bond among athletes could be felt. In the months following the crash, however, Miller's role changed. Freshmen who remained suddenly found themselves with a key role in the rebuilding process to honor their fallen teammates.
"With time, I strived to honor those who were lost," said Miller, "to comfort their families and to identify the best approach to heal and move forward."
Miller says the opportunity to speak at the ceremony, while joining his Marshall family as everyone comes together to remember those who perished in the crash, is the honor of a lifetime.
"My bond with Marshall is forever an intricate part of who I am," said Miller. "I stand proudly as a true son of Marshall. It defines my love and commitment for family. We Are…Marshall!"
After 43 years of working within the Caterpillar dealer network in Virginia, West Virginia and Kentucky, Miller is enjoying retirement with his wife of 45 years, Connie, in the couple's hometown of Prestonsburg. The couple lives in close proximity to their three adult children, their spouses and six grandchildren.
Banners displaying photos of the Young Thundering Herd are now on display on and around the Memorial Student Center Plaza.
Due to the COVID-19 pandemic, masks are required in all university buildings and are strongly encouraged even outside at this event. For those who choose not to attend in person, the event will be available via livestream by clicking on https://livestream.com/marshallu.
For more information on the Memorial Fountain Ceremony, to view a virtual plane crash memorial tour or view pictures of those who perished in the crash, visit www.marshall.edu/neverforget.
Recent Releases