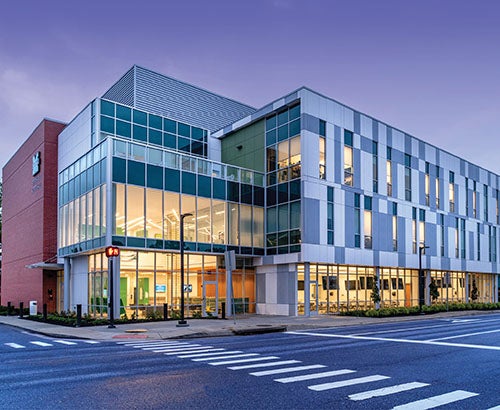 Marshall University School of Pharmacy recognized first through third year students at an awards and pinning ceremony Friday, April 1 in the Don Morris Room of the Memorial Student Center on Marshall's Huntington campus.  The ceremony was also available via livestream.
"It was so nice to hold this annual event in-person again and see smiles on students' faces," said Terri Moran, M.S., assistant dean of student affairs at the School of Pharmacy.
Keynote speakers Daniel Collins III, Pharm.D., pharmacist-in-charge at Hurricane Family Pharmacy, and Sarah Dunaway, Pharm.D., BCPS, clinical pharmacy manager at Marshall Health, encouraged the students who were sitting right where they were not too many years ago.  Collins, a 2019 alumnus, highlighted the range of pharmacy career paths available upon graduation.  Dunaway, a 2016 alumna, shared how she discovered her love of clinical pharmacy through her student rotations at the VA hospital.
Members of the class of 2023 were presented with pins, which symbolize the end of the didactic portion of the curriculum and serve as a symbol of accomplishment as students embark on their Advanced Pharmacy Practice Experiences.
The following student awards were also presented:
First-year student awards:
Community Service Award: Elijah Duty
Professionalism Award: Ryan Wooten
Leadership Award: Briana Kilgallin
Second-year student awards:
Community Service Award: Tiffany Childers
Professionalism Award: Kaleb Thompson
Leadership Award: Jasmine Maynard
Third-year student awards:
Community Service Award: Rachele Subik
Professionalism Award: Matthew Harless
Leadership Award: Marleigh Ross
Department of Pharmacy Practice, Administration & Research voted Student of the Year:
First-year student: Jonathan Lilly
Second-year student: Chelsea Fields
Third-year student: Kailey Spainhower
Department of Pharmaceutical Science voted Student of the Year:
First-year student: David Shore
Second-year student: Angelina Tetteh
Third-year student: Caroline Putnam
Spring 2022 scholarships were also announced:
Andrews Scholarship – Beau Barley
Deans' Scholarship – Alexandra Brown, Rebekah Preston, Ryan Wooten
Diversity Scholarship – Bethany Mullins, David Pina, Genesis Sanchez-Ramirez
Fruth Scholarship – Abigail Branham, Jordan Doyle, Safiyyah Mitchell
Leadership Scholarship –Chelsea Fields, Jakob Henderson, Lyndsey Riffe, Tanner Sweeney, Cheyenne Weakley
Marshall University School of Pharmacy Rural Health Scholarship – Shawn Belville, Simeon Cullens, Matthew Harless, Jillian Holgate, Hannah Rinker, Tanner Sweeney
Marshall University School of Pharmacy Scholarship – Alexandra Brown, Jordan Doyle, Katherine Duty, Dellani Fix, Sherwin Miller, Alison Shufflebarger
Additionally, preceptors who facilitate real-world training experiences, were recognized for outstanding contributions to student education. Each received a Blenko glass medicine jar etched with their name, the award received and the Marshall logo.  The following Preceptors of the Year were selected by students:

Community Pharmacy Preceptors of the Year
Laura Jo Miller, Pharm.D. — Kroger #16-664, Wheelersburg, Ohio
Jennie Cummings, Pharm.D. – The Pharmacy at HIMG, Huntington, West Virginia

Health System Pharmacy Preceptor of the Year
Darren Kirk, Pharm.D.  – Thomas Memorial Hospital, South Charleston, West Virginia
Derek Evans, Pharm.D. – Cabell Huntington Hospital, Huntington, West Virginia
Innovative Pharmacy Practice Preceptor of the Year
T.J. Parnell, Pharm.D. – Sam's Club Pharmacy, South Point, Ohio
Jennifer Orders, Pharm.D. – Marshall Pharmacy at PROACT, Huntington, West Virginia

Pharmacy Shared-Faculty or Faculty Preceptor of the Year
Charles "CK" Babcock, Pharm.D.  – Marshall University School of Pharmacy; Cabell-Huntington Health Department, Huntington, West Virginia