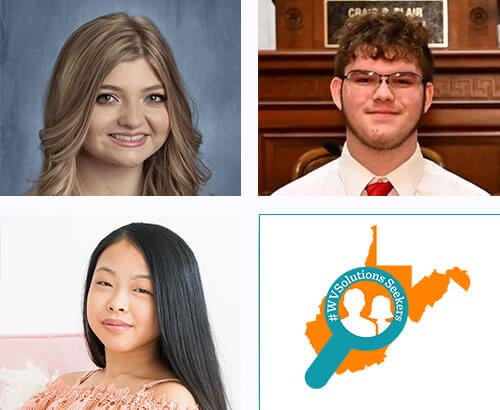 Three students were honored with the #WVSolutions Seekers – Rising Leader in West Virginia Award, during the #WVSolutions Seekers Student Leadership Conference earlier this month. The conference, which is hosted by the Alliance for Economic Development of Southern West Virginia (alliance), West Virginia Community Development Hub and Coalfield Development, took place virtually Friday, April 8. The alliance is housed in the Marshall University Research Corporation at Marshall University.
"It is all about keeping our young talent in Appalachia," Sara Payne Scarbro, the operations council chair for the alliance, said. "This conference allows students to explore career opportunities that are available right here in the Mountain State."
Students learned from many West Virginia leaders including the conference keynote, Federal Co-Chair for the Appalachian Regional Commission (ARC) Gayle Manchin. Manchin spoke to the students about the importance of community and partnerships. She told students they were the next leaders and they needed to share their energy with the world.
The #WVSolutions Seekers – Rising Leader in West Virginia Awards were made possible by the generosity of our program sponsor JP Morgan Chase.
"We were thrilled to be this year's program sponsor as we are huge supporters of West Virginia youth and understand the importance of providing educational skills and opportunities to develop our state's future leaders," Diana Whitlock, vice president and West Virginia community manager for JPMorgan Chase Bank, said. "As our logo states, you belong here!"
These awards are given to high school juniors and seniors as well as college and training program students statewide who have shown outstanding potential for future achievement as young West Virginia leaders.
Brittany Bruce is special projects coordinator for the Marshall University Research Corporation (MURC) and chairs the planning committee of the conference.
"West Virginia has so many phenomenal student leaders who have a true passion for their community and our state," Bruce said. "This award ceremony is a highlight of the conference, showcasing our state's best and brightest. These students are already making a difference and I am excited to see their mark on West Virginia."
The #WVSolutions Seekers – Rising Leader in West Virginia Awardees are as follows:
Liberty Justice is a senior at Mingo Central High School in Mingo County. Justice is a young entrepreneur who is involved in many activities in and out of school. She is a member of Mingo Kids New View and a junior counselor at the We Can Camp which allows her to work with children in the foster care system. Liberty owns and operates her own bakery A Dash of Faith Cakes. 
Dakota Browning is a junior at Scott High School in Boone County. Browning has had a substantial impact on his community through his involvement in the Rev Up Madison construction projects where he assists in community clean-ups and construction projects. He has built benches and has laid cement throughout his neighborhood. He also worked to restart his school's golf team and took the lead in brainstorming ideas for fundraising.
Kaitlyn Hatfield is a junior at Hedgesville High School in Berkeley County. During COVID, Kaitlyn established a scholarship for children who have ADHD and who had or are in the foster care system, and worked to make the scholarship recognized by all counties in West Virginia. She provides funds for the scholarship by selling her jewelry at local craft fairs and in businesses. She plans to award two $1,000 scholarships this year.
Photos: Liberty Justice (top left), Dakota Browning (top left) and Kaitlyn Hatfield (below left) were recognized with a #WVSolutions Seeker – Rising Leader in West Virginia Award. This award was presented as part of the virtual #WVSolutions Seekers Student Leadership Conference on April 8.