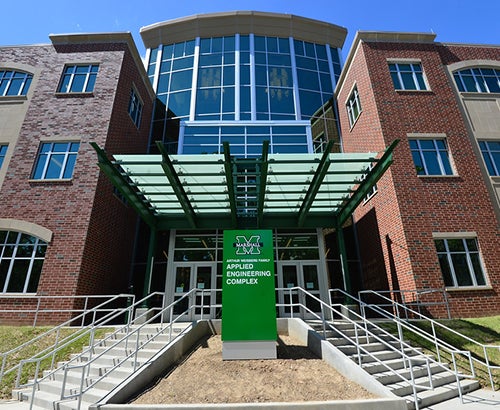 Marshall University was chosen for project in the Pathfinder program, the first West Virginia project awarded by U.S. Army Combat Capabilities Development Command (DEVCOM) and the Civil-Military Innovation Institute (CMI2). Marshall will lead a research project that focuses on engineering and cybersecurity for technology used by the military.
Pathfinder joins researchers and the U.S. military to help provide Army soldiers with a platform to create and produce much-needed technology. Awarded earlier this year, the subcontract runs through August.
"The Pathfinder program represents opportunities to study challenges encountered by our military and develop solutions to those challenges," said Dr. David Dampier, dean of the College of Engineering and Computer Sciences at Marshall University. "This partnership is especially meaningful in that Marshall University's academic community plays a critical role in directly supporting the technological needs of soldiers."
DEVCOM Army Research Laboratory manages the Catalyst-Pathfinder program with the DEVCOM Armaments Center. The Morgantown-based CMI2 facilitates projects and supports partnerships to innovate technologies and facilitate their swift commercialization and acquisition by the U.S. Army.
The Pathfinder program is a Congressional initiative executed by DEVCOM that aims to harness the creativity and technical skills of academic and government researchers to help the Army integrate solutions to real problems into the total force. The DEVCOM Catalyst-Pathfinder Program launched in 2021 in the XVIII Airborne Corps at Fort Bragg, North Carolina. It has now extended to Montana and West Virginia.
"The collaboration of Marshall University, CMI2 and DEVCOM demonstrates the critical team approach needed to provide advanced technology to our military," said Arwen Decostanza, Catalyst-Pathfinder program manager, DEVCOM Army Research Laboratory. "These partnerships allow us to work hand in hand to identify risks to our military operations and allow researchers to solve such problems."
"The relationship between Marshall University, DEVCOM and CMI2 brings innovation to West Virginia, as well as collaborative efforts between academia and the Army," said Cody Clevenger, CMI2 Pathfinder program manager. "This collaboration gets people to the table who can work together to solve these important problems, while strengthening academia and soldier modernization."
For more information about Marshall's cybersecurity programs, visit www.marshall.edu/cfs and https://www.marshall.edu/cecs/b-s-in-computer-and-information-security/.