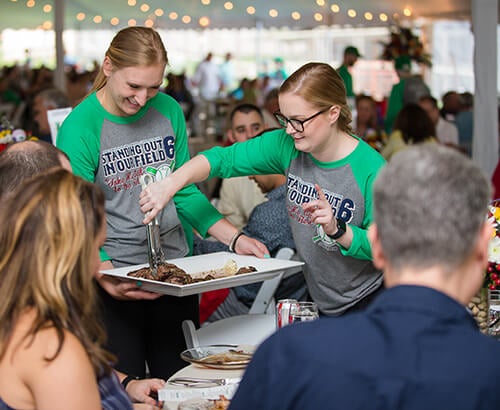 The Marshall University Joan C. Edwards School of Medicine announces the return of its largest student scholarship fundraiser, Standing Out in Our Field, Saturday, Aug. 27. The annual event, which typically raises more than $100,000 for the school's scholarship endowment, was canceled in 2020 and 2021 as a result of COVID-19.
This year, the unique outdoor dining experience that draws hundreds has been moved to the Barboursville Soccer Complex. Sponsored by the school's major teaching hospital partner, Mountain Health Network, Standing Out in Our Field will feature a "Night in Havana" theme and serve up a gourmet Cuban menu by Cabell Huntington Hospital's Executive Chef Don Sallada.
The event begins with a reception at 6 p.m. and is followed by dinner and dancing from 7 to 11 p.m., featuring music by the band Big Planet Soul.
"We are so excited to be having this amazing event again and looking forward to our new location at Barboursville Park. What's truly special about this evening is our current medical school students and other volunteers are the waitstaff," said Linda S. Holmes, director of development and alumni affairs at the Marshall School of Medicine. "We couldn't serve nearly 500 attendees without them, and they are truly grateful for the opportunity to interact with many of the donors making their scholarships to medical school possible."
Proceeds from the annual event go to provide much-needed support for medical student scholarships. This year, event chairs, Dr. Bobby and Eric Hardin Miller have set a goal to add another $150,000 to the school's scholarship endowment.
Event sponsors to date include Mountain Health Network, Valley Health, Champion Industries, Ohio Valley Physicians Inc., Radiology Inc, Retina Consultants, Diane C. and Maurice A. Mufson, M.D., Northstar Anesthesia, Ohio Valley Bank, Pleasant Valley Hospital and Marshall Health.
Tickets are $125 per person. Additional sponsorships are available. To make a reservation, please contact Tami Fletcher by phone at 304-691-1701 or by e-mail at fletcher@marshall.edu. For more information, go to https://jcesom.marshall.edu/alumni-giving/standing-out-in-our-field/.