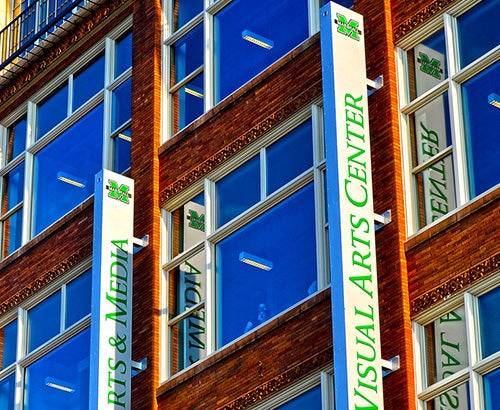 Marshall University will present an exhibition featuring 10 blocks from the AIDS Memorial Quilt, a piece of art conceived in November of 1985 by longtime San Francisco gay rights activist Cleve Jones to create a memorial for those who had died of AIDS and help others understand the devastating impact of the disease.
The exhibition will open Friday, June 10, in the Charles W. and Norma C. Carroll Gallery, inside the Visual Arts Center at 927 3rd Ave. in downtown Huntington. The public is invited to attend an unfolding ceremony at 1 p.m. on opening day, June 10. The exhibition will be on view through July 30.
Gallery hours are 10 a.m. to 4 p.m. Monday through Friday.
This is a unique opportunity to see this living document in person, said Marshall Gallery Director Jamie Platt.
"It's moving to see the outpouring of love stitched into each block. Even if you never met the person memorialized, their lives come into focus in those stitches, and you feel the impact of their loss," Platt said.
The quilt was displayed for the first time on Oct. 11, 1987, on the National Mall in Washington, D.C., during the National March on Washington for Lesbian and Gay Rights. It covered a space larger than a football field and included 1,920 panels. Volunteers unfolded the quilt at sunrise as celebrities, politicians, families and loved ones read the 1,920 names of those represented in quilt.
The reading of names is now a tradition followed at nearly every quilt display. Half a million people came to view the quilt that first weekend, and the unveiling was followed by a
20-city national tour. Now, the National AIDS Memorial works with hundreds of partners across the country to organize over 1,000 displays in schools, universities, places of worship, corporations and community centers.
New panels continue to be made and today, the entire AIDS Memorial Quilt is a 54-ton tapestry with nearly 50,000 panels dedicated to over 110,000 individuals. It is considered one of the largest community arts projects in history.
Admission is free. For visitors to the gallery, masks are currently required inside the building, regardless of vaccination status. For up-to-date information about COVID protocols or any questions about the exhibition, call 304-696-7299.