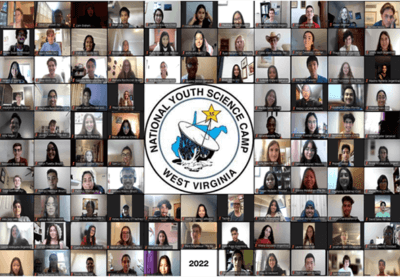 On Wednesday, July 20, the National Youth Science Camp (NYSCamp) said goodbye to 120 delegates from over 40 states and 12 Western Hemisphere nations. Since its inception in 1963 as part of West Virginia's Centennial, the NYSCamp has honored over 6,200 students, giving them the opportunity to participate in a rigorous STEM enrichment program. Operated by the National Youth Science Foundation, its mission is to inspire lifelong engagement and ethical leadership in science, technology, engineering, and mathematics through its proven educational model for mentoring, challenging, and motivating students.
This was the third virtual camp directed by Dr. Brian Kinghorn, an associate professor of curriculum, instruction and foundations at Marshall University. Building on previous virtual experiences, this year included the most interactive STEM education programming in the NYSCamp's 59-year history, comprising 320 interactive sessions from 95 presenters. It included 15 keynote lectures, four panel discussions, two concerts, and virtual tours of the National Gallery of Art and the Green Bank National Radio Astronomy Observatory. Presenters represented prestigious institutions such as the White House, NASA, AAAS, the NIH, YouTube, Harvard Medical School and many universities across the nation.
In addition, seven Marshall University faculty and two Yeager Scholars alumni were among the world-class presenters at camp. Of the 15 keynote lectures, two were presented by Marshall faculty. On July 14, Dr. Suzanne Strait, a professor of biological sciences at Marshall and associate director in the Division of Science and Research at the West Virginia Higher Education Policy Commission, taught the delegates about the history, anatomy and diversity of gonads. Then, on July 18, Sydnee McElroy, M.D., a 2005 Yeager alum and assistant professor and family physician at Marshall Health, spoke about her experiences dispelling misinformation as a podcast co-host of Sawbones: A Marital Tour of Misguided Medicine.
When asked about the importance of her topic for NYSCamp delegates, Strait said, "We're not comfortable enough talking about reproductive anatomy [which] makes a big impact in peoples' lives, policies, politics… sexuality, etc. It would be a much healthier society if people knew a bit more about their bodies" Speaking of scientific literacy in general, she added, "there are so many levels where science interfaces with culture, society, and politics, and most people are not comfortable talking about it. In order to make people more science-friendly, it's nice to introduce these topics in a more fun, easy setting."
Similarly, McElroy explained that "it behooves us to become savvy communicators with every format at our disposal… because we are living in a time of HIGH availability of misinformation [where] people [spreading] scientific misinformation are winning the battle because they don't have to bother with the truth." She continued, "we have to be as skilled in these areas [of communication] as those spreading misinformation."
Both lecturers were impressed with the opportunities the NYSCamp gave delegates to create a community together and look beyond their own spheres of influence. As McElroy put it, "As somebody who always loved science, feeling alone as a 'nerdy' kid who stuck to myself, to see the NYSCamp bring people together to nurture and celebrate their love of science is inspiring. It creates the kind of environment and atmosphere for these young peoples' passions to be nurtured and grown in the best ways."
Similarly, Strait said, "NYSCamp is a wonderful venue for young people; I am a huge proponent for informal education for young people in the sciences. The more interaction people have with others across the country and world, the better we will be. It's never too early to network outside our own spheres!"
Seminars and directed studies by Marshall faculty and alumni included:
"Cybersecurity: An Internet Scavenger Hunt" presented by Bill Gardner, an associate professor in Marshall's Cyber Forensics and Security program;
"Fractals and Hausdorff Dimension" presented by Dr. Anna Mummert, a professor of mathematics at Marshall;
"A History of Mining and Environmental Impacts in Appalachia" presented by Dr. Scott Simonton, professor of industrial and systems engineering at Marshall;
"Bringing History and Science to Live with the Clio App" presented by Dr. David Trowbridge, an associate professor of history at Marshall who is currently on leave;
"Exploring the Invisible Cosmos with Radio Astronomy" a three-day directed study presented by Ellie White, a 2021 Yeager Scholar graduate and current scientific data analyst at the Green Bank Observatory.
As the camp came to a close at the Zoom farewell banquet, over 30 delegates spoke about their amazing and life-changing NYSCamp experiences. "It didn't feel like it was virtual at all," said New York delegate Anitta Kottai. Argentina delegate Gabriel Antequera added, "Best three weeks of my life."
California delegate Aadity Sharma, one of four keynote delegate speakers, reflected on the camp, saying, "the last few weeks have been tremendously humbling, and they made me rethink the purpose in everything that we do and the greater impact that science can make on generations to come," She then concluded, "the ending of camp has left some beautiful memories, and I hope that we all stay lifelong friends, and we keep in touch forever."
For inquiries, photos, and interviews, please contact Delaney Rose "DR" Ahrens, Director of External Relations and Development for the camp, at communications@nysf.com.
————-
Photo: Participants in this year's National Youth Science Camp.
Recent Releases