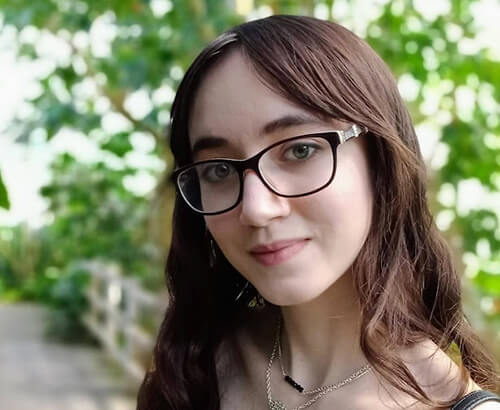 A Marshall University student is the winner of a Benjamin A. Gilman Scholarship and an American Association of Teachers of Japanese Bridging Scholarship to study abroad.
Emerald Fatica is a senior majoring in finance and international business, with minors in Japanese, mathematics and economics. She plans to use the Gilman and AATJ Bridging Scholarships for the fall semester of her upcoming senior year at Kansai Gaidai University in Japan with the Asian Studies program.
"Trying to afford a college education has always been a great challenge and stressor," Fatica said. "I've applied for countless scholarships over the years and received many disheartening rejections. Receiving such notable rewards as these remind me that all the hard work I've put in has been well worth it. Receiving these scholarships means a great deal. I would not be able to pursue a lifelong dream of studying abroad if not for financial assistance."
The AATJ Bridging Scholarship for Study Abroad in Japan is given by a variety of contributors. The awards of up to $4,000 are administered by the American Association of Teachers of Japanese and are designed to promote study of the Japanese language, literature and culture.
Gilman Scholars receive up to $5,000 to apply towards their study abroad or internship program costs with additional funding available for the study of a critical language overseas. Fatica is one of only 3,000 undergraduate students from across the United States selected to receive the Gilman scholarship to study or intern abroad through April 2023. Gilman Scholars will study or intern in 91 countries.
The Gilman Scholarship supports American undergraduate students of limited financial means to study or intern abroad and, since 2001, has enabled more than 34,000 outstanding Americans of diverse backgrounds to engage in a meaningful educational experience abroad. The program has successfully broadened U.S. participation in study abroad, while emphasizing countries and regions where fewer Americans traditionally study.
The Gilman program is sponsored by the U.S. Department of State's Bureau of Educational and Cultural Affairs and is supported in its implementation by the Institute of International Education (IIE). For more information about the Gilman scholarship, visit its website at https://www.gilmanscholarship.org.
For more information about the Bridging Scholarship, visit its website at https://www.aatj.org/studyabroad/japan-bridging-scholarships or contact Kasey Stevens, program manager of the Office of National Scholarships, by phone at 304-696-2475 or by e-mail at ons@marshall.edu.