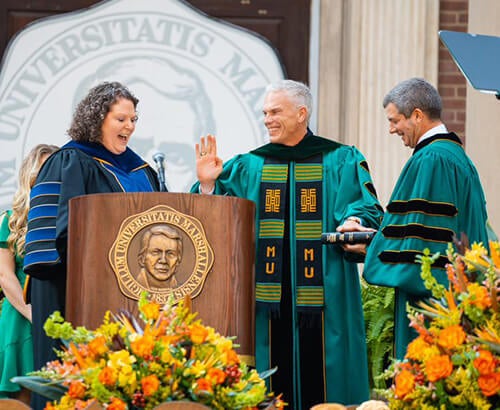 In an outdoor ceremony on the Huntington campus Friday morning, complete with the pomp and circumstance of academic tradition, Marshall University graduate and former Silicon Valley CEO Brad D. Smith was officially installed as Marshall University's 38th president.
The investiture is a formal installation of a university president and is customarily held during a new president's first year in office.
Smith, who assumed the presidency nine months ago, is a native of Kenova, West Virginia, a 1986 graduate of Marshall and a successful former CEO and president of Intuit.
"They say that gratitude is when a memory is stored in the heart and not in the mind," Smith said.  "I can assure you that I will carry this memory in my heart forever."
Smith's mother, Judie Smith of Kenova; his wife, Alys; and daughters, Payton Smith and Devon Smith Heyn and her husband; one of Smith's brothers; and extended family accompanied the president to the ceremony.
Attended by hundreds of guests, who represented state colleges and universities; Marshall's Board of Governors; faculty, staff, students, legislators; alumni and friends, Friday's ceremony included greetings from constituencies across the university.
"Brad's vision and drive for everything Marshall is inspiring," said Patrick Farrell, chair of Marshall board of governors. "His energy, humility and work ethic are motivating everyone around him to greatness."
Farrell opened the ceremony with a welcome message, which was followed by greetings from university constituencies and the state of West Virginia.
Dr. Sarah Armstrong Tucker, chancellor of the West Virginia Higher Education Policy Commission; Student Government Association President Isabella Griffiths and Farrell conducted the official induction ceremony and presentation of the President's Medallion.
The president acknowledged his family's support and included homage to his late father, Larry Smith, by scheduling today's event on his birthday.  After being officially sworn in, Smith thanked his family and members of the Marshall community for their support,, saying "each of you played a major part in helping me get to this moment …. you are the house that built me."
During his remarks to the audience, Smith focused on the theme of time, saying while the university's vision, creed and purpose remain timeless, time stands still for no one, and the university must adapt to keep pace with 21st century acceleration.
"The implication for Marshall is the need to build on our historical foundation while continuing to adapt and innovate … as the prosperity platform for the 21st century, we'll need to strengthen three pillars of strategic execution: in-demand knowledge, on-demand access and distinctive achievement."
Smith went on to describe his vision for the future, which germinated some nine months ago when he launched a series of campus and community listening sessions to capture ideas, challenges and possible goals.  The information was distilled into actionable pillars including the most important aspirations of enrollment growth and affordability.
"It will take a collective effort, but we see a way forward," Smith said. "In fact, we are in the midst of a strategic planning process to define that path forward as a prosperity platform in the 21st century and the strategic hypothesis that is emerging is Marshall for all, Marshall forever."
Smith also took the moment to outline a goal that no Marshall student will graduate with student loan debt in the next decade.  Details are being defined, but Smith said the program will be piloted in the fall of 2023 with a group of 100 students.  Findings from the initial launch will then will adjusted and scaled to assist more students.
Ending with a charge to the university community of "let's do this," Smith said, "Let us answer the call and be the change we seek in the world."
Friday's ceremony was held on the Third Avenue Lawn of the historic James E. Morrow Library built nearly 100 years ago in 1930. A reception was on Buskirk Field complete with music provided by the Marshall University Jazz Combo.
———–
Above photo: Dr. Sarah Armstrong Tucker (left), chancellor of the West Virginia Higher Education Policy Commission, swears in Brad. D. Smith as president of Marshall University. At right is Patrick Farrell, chair of Marshall's board of governors.
———–
Video:
INVESTITURE OF BRAD D. SMITH VNR (Download Link)
 IVESTITURE OF BRAD D. SMITH VNR.mp4
INVESTITURE OF BRAD D. SMITH VNR Unlisted YouTube Link)
Photo:
https://muphotos.marshall.edu/President-Brad-Smith/91622-President-Brad-D-Smiths-Investiture-/