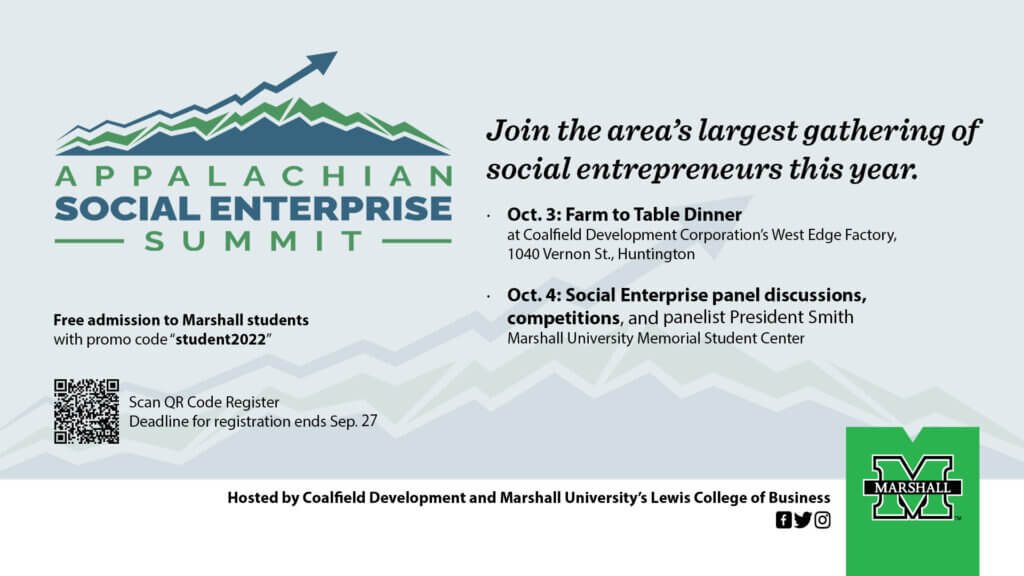 Marshall University's Lewis College of Business is teaming up with Coalfield Development to host the Appalachian Social Enterprise Summit Oct. 3-4. The summit will be the area's largest gathering of social entrepreneurs this year, providing an opportunity to learn from and support some of the most creative and compassionate leaders in Appalachia.
The event kicks off at 5 p.m. Monday, Oct. 3, with a Farm to Table Dinner, featuring a keynote speech by Gayle Manchin, co-chair of the Appalachian Regional Commission. The dinner will be followed by a community training experience from 6-8 p.m., providing an opportunity for participants to be trained in woodworking, screen printing, or compost and reuse. The dinner and trainings take place at Coalfield Development's West Edge Factory, 1040 Vernon St. in Huntington.
On the following Tuesday, Oct. 4, the summit moves to Marshall's Memorial Student Center, where there will be a variety of sessions on social entrepreneurship. The summit will take place from 9:30 to 4 p.m. Session topics include:
Why is Social Enterprise Critical for Appalachia to Flourish?
Is Appalachia Fertile Ground for Social Enterprise?
How Can Business, NGOs, and Capital Work Together for Social Enterprise?
At 9:45 a.m., Marshall University Student Government Association President Isabella Griffiths will moderate a panel discussion with Marshall President Brad D. Smith and guests John Kinzer, operating partner of Stripes Group, and Dan Conant, CEO of Solar Hollar,  about market opportunities in central Appalachia.
There also will be an idea pitch competition and business pitch competition.
"In the Appalachian region, we've had many purely public programs fall short in their goals of alleviating poverty," said Brandon Dennison, CEO of Coalfield Development. "We've also had purely private, market-based ventures abuse our people and our environment. Social enterprises are a way to blend what works from both the private and nonprofit sectors and alleviate some of the shortcomings from each. Social enterprises are driving some of the most innovative business concepts in Appalachia today, and this summit is a chance to become part of that movement."
The Lewis College of Business is proud to cohost the event with Coalfield Development, said Dr. Nancy Lankton, associate dean of accreditation and strategic initiatives for the college. "Brandon Dennison and his team are remarkable individuals driving the change we need in Appalachia," she said. "We hope attendees leave the summit inspired about how they, too, can impact the region through social good."
Students get free admission to the summit with the promo code "student2022." Registration deadline is Tuesday, Sept. 27. For more information and to register, visit www.coalfield-development.org/appalachian-social-enterprise-summit/.
Recent Releases