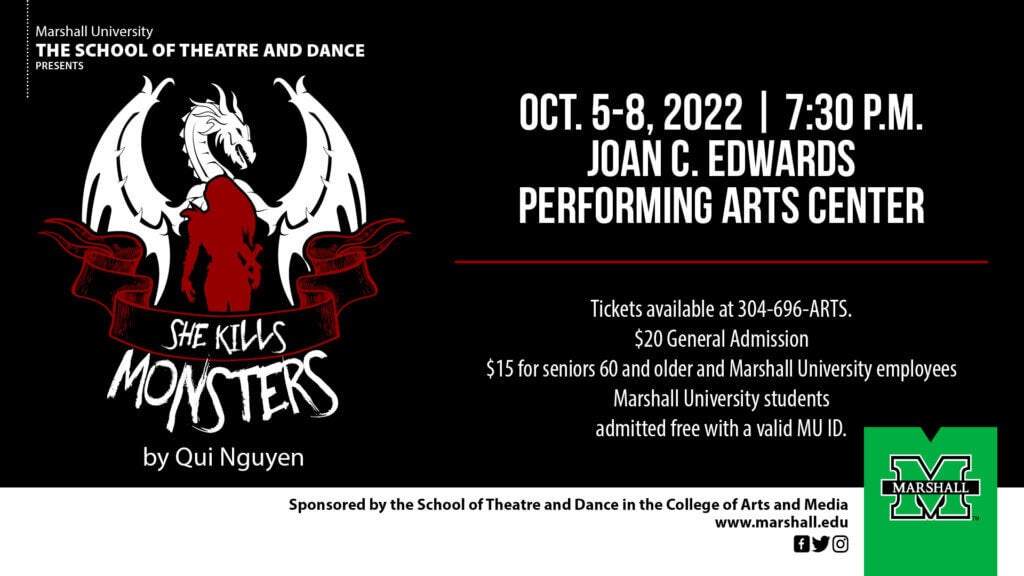 The Marshall University School of Theatre and Dance will present "She Kills Monsters" by Qui Nguyen at 7:30 p.m. Wednesday, Oct. 5, through Saturday, Oct. 8, in the Joan C. Edwards Performing Arts Center.
"She Kills Monsters" is a drama and comedy about Agnes Evans, who moves away from her childhood home in Ohio after the death of her parents and teenage sister, Tilly. Agnes finds Tilly's "Dungeons and Dragons" notebook, which catapults her into an action-packed journey of discovery in her sister's imaginary world. It's high‐octane adventure that throws back to 90s pop culture and includes creatures such as homicidal fairies and nasty ogres. With "She Kills Monsters," playwright Qui Nguyen offers thrills while paying homage to the geek and warrior in each of us.
Directed by Leah Turley, an assistant professor in the School of Theatre and Dance, the cast includes the following Marshall students: Sierra Lutz, Nikki Riniti, Noah Ritchie, Jimi Lee, Jaden Babbit, Kendra Williams, Samantha Phalen, Candace Maynard, Michael Martin, Caelum Burgess and Emma Welker.
"She Kills Monsters" features large-screen animations, large-scale puppetry, atmospheric music, intricately designed costumes, and concert-style lighting, Turley said.
"It's meant to be a show that wows you," she said. "Despite its 90s vibe, it's very relatable to younger audiences, but ages 16 and up are your best bet for this show. There's violence, language, and some sexual situations. But for anyone who's ever felt like a nerdy, awkward, loser teenager, this show is for us."
The cast learned stage combat, fight choreography and puppetry for this show, Turley said.
"It's the staging and the story that shift the inconsequential violence and fun camp of DnD (Dungeons and Dragons) into a story about processing grief," Turley said.
"In 'She Kills Monsters,' DnD becomes a refuge for those who want to see themselves as magical, powerful, and strong. The characters live out their greatest fantasies and hardships in a world with no real-life consequences," she said. "Theatre does the same. DnD is the application of theatre concepts amongst friends, it's the tenants of storytelling in someone's basement, it's acting theory and methodology in practice, but the stage is a gameboard on a coffee table."
Tickets are free for Marshall students with their MU IDs, $20 general admission, and $15 for employees and seniors age 60 and older. For tickets or additional information, call 304-696-ARTS.
Recent Releases