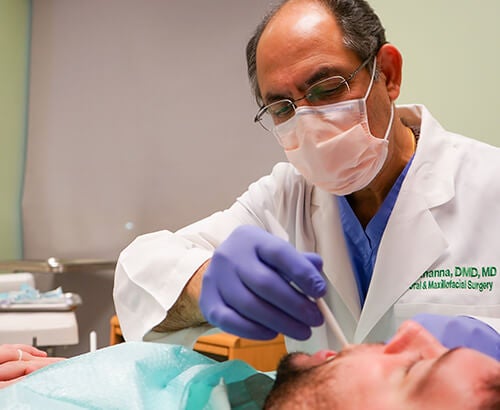 The Marshall University Joan C. Edwards School of Medicine has received approval from the Commission on Dental Accreditation to implement an optional second year of training into its general practice dental residency.
During the first year, residents receive intensive training in comprehensive dental management of patients with complex medical problems and special needs patients in both inpatient and outpatient settings. The optional second year further enhances clinical skills while providing advanced training in complex clinical procedures. Throughout the curriculum, residents engage in complex clinical procedures in collaboration with various medical specialties and learn basic research techniques that will aid them in taking an evidence-based approach in their practice of dentistry.
"It is an honor for Marshall to have one of the very few fully accredited second-year general practice residencies in the country," said Marshall Health oral surgeon Raj K. Khanna, D.M.D., M.D. (pictured), professor and chair of dentistry, oral and maxillofacial surgery and residency program director. "The first year of the residency program is specifically designed to enhance the resident's abilities and confidence in fully treating the total patient, while familiarizing themselves with other aspects of the hospital health service as they work in close relationship with other members of the health care team. The second year will help residents refine and build upon those skills, teaching them to practice independently and provide advanced methods of pain and anxiety control in dentistry."
In addition to the added year of training, the commission approved the Joan C. Edwards School of Medicine to increase its enrollment from three one-year general dentistry residents to five total residents, including three residents in the first year of training and two residents in the second.
Like all dental graduate programs, general practice residencies are optional for U.S dental graduates with either a D.M.D. or D.D.S. degree from accredited dental programs. However, residency is mandatory for international dental graduates who fulfill other prerequisites. The dental residency program at the Joan C. Edwards School of Medicine is a fully accredited program that was established in 2016 in collaboration with Cabell Huntington Hospital and now offers one of the largest, most extensive general practice residency training program for dental graduates in West Virginia.
The application to apply for a dental residency is open now through Dec. 15. For more information, visit jcesom.marshall.edu/dental-residency. For news and information about the Joan C. Edwards School of Medicine, follow us on Twitter @MUSOMWV, like us on Facebook or visit jcesom.marshall.edu.