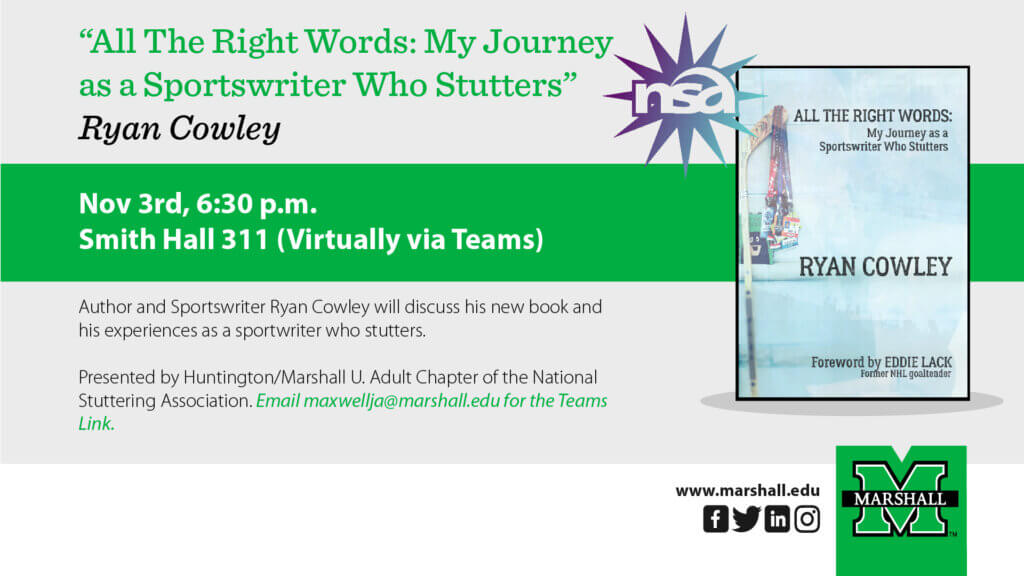 Author and sportswriter Ryan Cowley will be joining  Marshall's local chapter of the National Stuttering Association to discuss his new book, All The Right Words: My Journey as a Sportswriter Who Stutters. Cowley will visit (virtually) with the Marshall community Thursday, Nov. 3,  at 6:30 p.m. in Smith Hall 311.
Cowley uses his platform as both a sportswriter and author to highlight the fact that stuttering does not stand in the way of the dreams of those that deal with stuttering. In his book, Cowley outlines the times when his stuttering led him to doubt and limit what he thought he could accomplish in life. Cowley, though, realized something needed to change and began to work hard and find help. It led him to a successful career as a sportswriter.
Jamie Maxwell is an assistant professor in the Department of Communication Disorders at Marshall. Maxwell and Bryan Matthews co-lead the monthly meetings of the Huntington/Marshall University chapter of the National Stuttering Association. Maxwell says it's a great opportunity to bring Cowley to campus.
"The motto of the NSA is 'if you stutter, you're not alone.' Opportunities like this to connect with other individuals who stutter around the world really embody that motto," Maxwell said.
A Toronto-based sportswriter, who mostly covers hockey, Cowley realized that to get where he wanted to go he had to find ways to deal with stuttering and to work his way through the instances of doubt. Cowley says he had to learn to focus on his goals and less on his stuttering issues.
"One big priority for our local chapter is to value what a person says, rather than how it is said," Maxwell said. "We really want our community to understand stuttering more and hearing people like Ryan tell their stories and share their experiences is a great way to do that."
The National Stuttering Association is dedicated to empowering and supporting  the stuttering community and educating others about stuttering. Founded in 1977 as the Stuttering Project, the association currently functions through a network of more than 200 local adult, teen and children's chapters nationwide. The NSA sponsors regional workshops, youth and family events, education seminars for speech-language pathologists and an annual conference. The NSA also publishes educational resources, such as pamphlets and booklets about stuttering. For more information on the Huntington/Marshall U. chapter, e-mail Maxwell at maxwellja@marshall.edu.